November 18, 2021
Faster shipping and better rates, now in more states: Sendle Swift
by Sendle Team
Sendle Swift launched September 1, bringing 2-day service and astonishingly great rates to Sendlers across the Western U.S. Now there's even more to love, with two new states in the Sendle Swift zone, plus shipping from $2.60!

Editor's note: From March 21, 2022 Sendle Swift is changing. We're introducing a really affordable and speedy pick up service starting at $3.35 that all Pro Sendlers can access (not just those in the Western states).
If you're a current Swift user, or have been jiggling in your seat waiting for your state to be added to the map, hang tight! Your account manager will be in touch (but feel free to reach out) to discuss how we can continue to help your business get the very best rates available.
---

At Sendle, supporting small businesses is our top priority. Particularly during the peak holiday rush, we're here to give you the confidence and peace of mind that you've got shipping covered. That's why we've expanded our Sendle Swift program to bring faster shipping and incredible low rates to even more states.
New states and incredible rates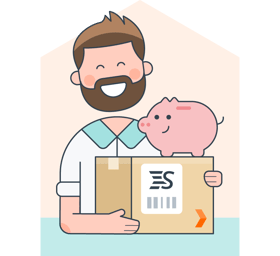 Sendle Swift already gives businesses access to faster, even more affordable shipping within eligible states. Now you can ship from as low as $2.60! It's the cheapest shipping in the U.S., fancy that!
To access this priority shipping program, you need to be on the Sendle Pro plan (200+ shipments/month) and must select pickup for your packages. Shipments will automatically upgrade to Sendle Swift when traveling within the Sendle Swift zone.
Welcome aboard the Sendle Swift savings express, Colorado and New Mexico! Deliveries to you are now part of our quicker-shipping, bigger-savings region alongside Washington, Oregon, Idaho, California, Nevada, Utah and Arizona. (We can't pick up for Sendle Swift in Colorado and New Mexico just yet.)
Sendle Swift packages ship in two days or less with the best rates available across the entire zone. Ship a ten pound box of chocolates from San Francisco to Denver for $8.71. Or 20 pounds of pickles from Portland to Santa Fe for $9. That's a savings of $10.05!
2-day delivery
Discounts across the board on Sendle's already-great rates (save up to 88%!)
Ship within the Sendle Swift zone from $2.60
Free package pickups from your door
Here are your Sendle Swift rates!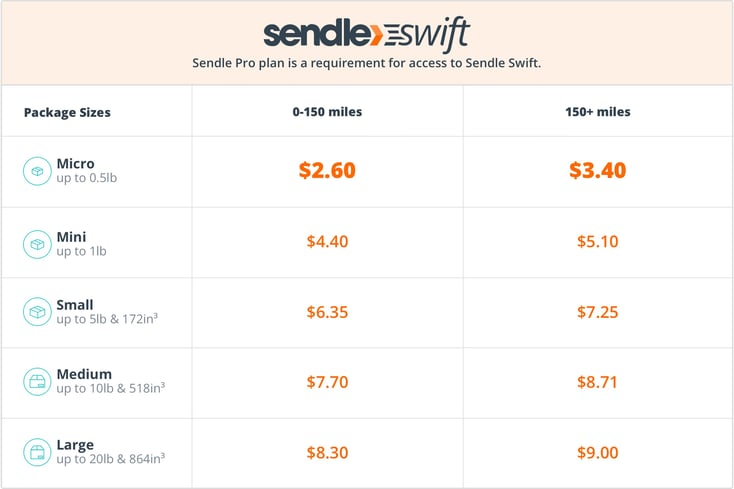 Unlocking the great benefits of Sendle Swift couldn't be easier.
As always, you'll also get 100% carbon neutral shipping on every package. There are no monthly subscriptions, and you'll get access to Sendle's powerful tracking tools, bulk shipping features, and world-class customer service.
And, thanks to our commitment to No Peak Surcharges all season long, you know that the rates you see are the rates you'll get.
Don't take our word for it. Check out what these ship-happy customers have to say:
"We absolutely love Sendle! As a small, family-run business, cutting costs is key. Last year during the unprecedented holiday demand we switched over to Sendle and were shocked at how much we saved. It was enough that we each decided to buy ourselves something special. My wife got the guitar she had been wanting and I upgraded my iPad! This year, with Sendle Swift, we will save even more!"
~ Jonathan Hebel, Hapa Designs
"Sendle has allowed me to continue to not be a follower, but rather a leader in the small business world. I can almost call it my best kept secret. Shipping has really never been this easy, especially with pre-programmed and coordinated pick-up of my packages. Being safe during the pandemic has included me not going to the post office, and with Sendle, I can rest assured that my customers will continue to get their packages safely and securely. I often have customers tell me that they are astonished how fast delivery is with Sendle, and that in turn creates customers who return for their shopping needs. It's truly a win-win for businesses and consumers."
~ Judy Carey, Birch House Marketplace