September 21, 2020
Socially distant gift guide: 9 ideas for thoughtful gifting during COVID
by Nina Hammer
You've spent hours on the phone—or FaceTime or Zoom or Hangouts or Houseparty—connecting and reconnecting with the people you cannot physically hang out. You want some way of being next to someone without actually being next to them.
Perhaps you are briefly self-isolating and separated from your partner. Or perhaps you haven't been able to visit your parents or grandparents so as to keep them safe. *Hug*
Maybe you have a friend in Melbourne or another area under strict lockdown. This is a hard time, made all the harder by the fact that we often cannot be beside the people that give us the most company and comfort.
Nothing can really replace a hug, a cup of tea, or a pint in person. There's a warmth that's lost over our ubiquitous video chats.
While we can't have that sort of warmth right now, we can send our love to the people closest to us in other ways: in care packages and book bundles, in tea drops and food parcels.
You can leverage the power of the delivery driver and send your loved ones something they'll really enjoy. We've got a bunch of ideas to help you out there.
9 gift ideas for your isolated loved ones
Let's get right into some gift ideas for the people you hold close even when apart.
For the avid reader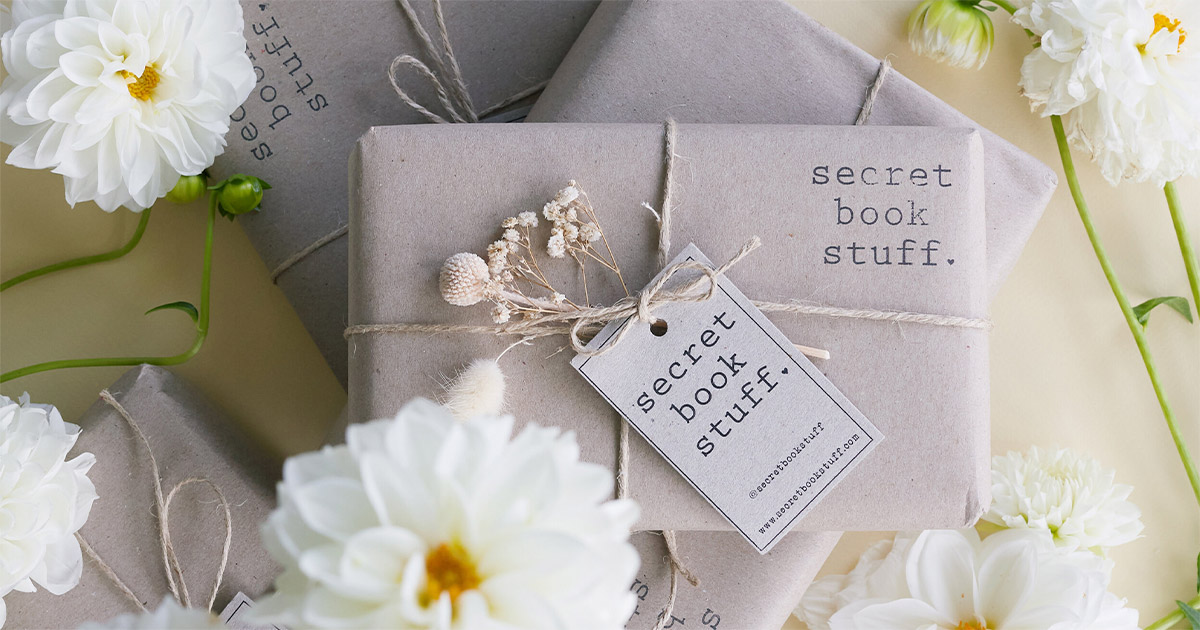 Photo from Secret Book Stuff
Secret Book Stuff is a small independent bookshop based in Newcastle.
The owners, Amy and Laura, concentrate on operating a deeply environmentally-friendly business and giving back to the community.
For every book they sell in 2020 they plant a tree and donate a book to a child based in a rural community.
If you have a particularly eager reader in your life, you can send them a Secret Book Bundle. They'll get a gently used wrapped book in the genre of your choice, along with either seeds for their garden, some vegan chocolate, a hand-pressed bookmark, organic loose leaf tea, or a notebook made from recycled materials.
If it is a particularly special occasion—say, an isolation birthday or an anniversary apart—you can send them a Secret Book Box. They will receive a book in the genre of your choice, a handwritten note, a dried flower posy, an art print, and several other little goodies.
The Book Boxes are released in small batches under different themes, so if you see one you like, hop on them quickly before they go!
Other gift options include:
A simple surprise

secret wrapped book

for yourself or someone dear.
A subscription to the

Secret Book Club

, where the owners ask about books you or the recipient have loved and send months of personalized secret book deliveries.
For the sick and sniffly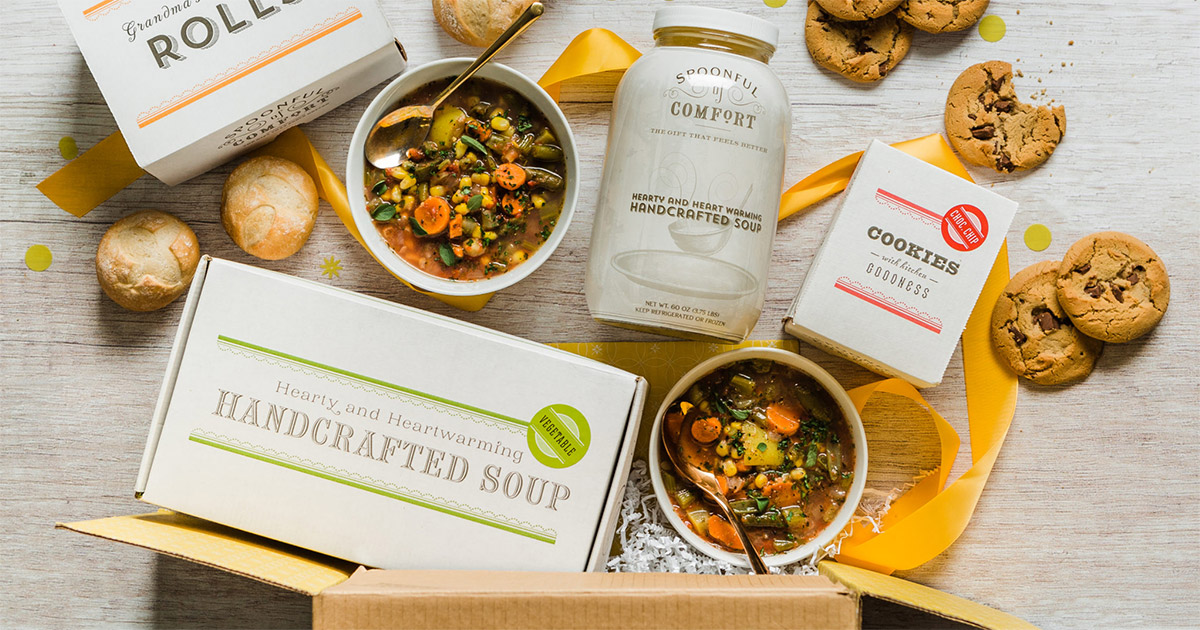 Chicken soup care package from Spoonful of Comfort
If someone you care about is feeling under the weather (be it COVID or just the common cold), your first instinct might be to go over and cook them a big batch of soup.
Spoonful of Comfort does exactly that for you. Their soup care packages consist of a big jar of soup enough for six generous servings, bread rolls, cookies, a soup ladle, and a personalized note.
You can choose between chicken noodle soup, corn and potato chowder, harvest vegetable, chicken chowder, or chicken and wild rice, and from an array of cookie options as well. The whole parcel comes brightly packaged to cheer up the recipient.
The company also offers vegan and gluten-free soup options, and even a summer s'mores package for when it is too hot for soup!
For the romantic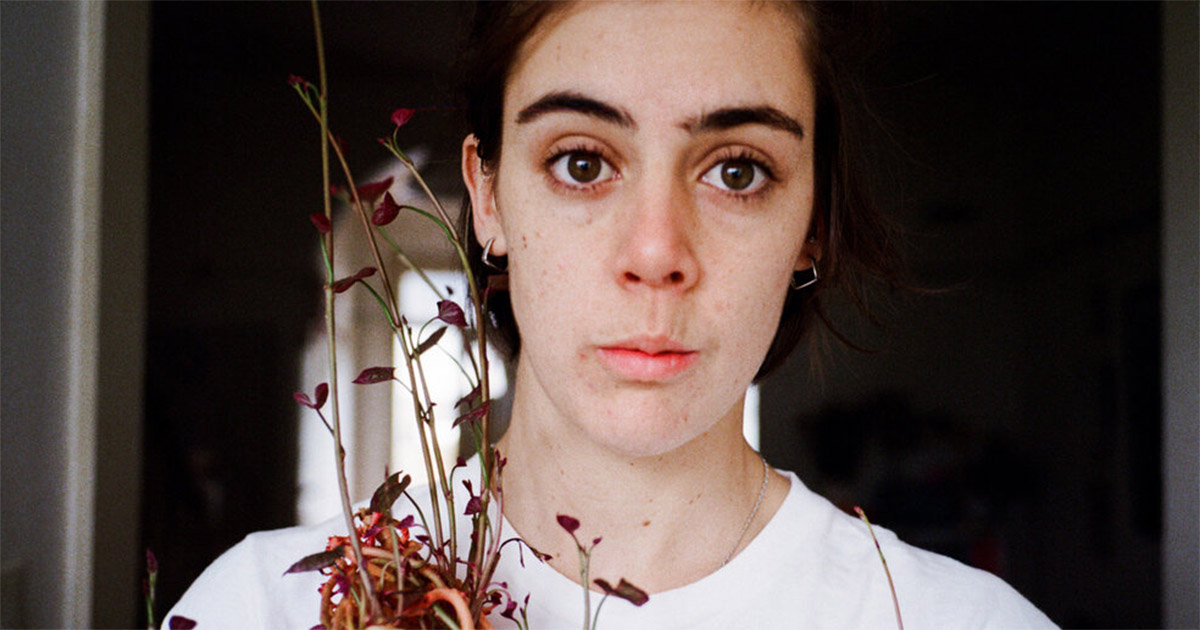 Photo from Emily Crocker Poetry
For the poet, for the tender-hearted, for the romantic, or for the word lover: award-winning poet Emily Crocker is offering custom poems on a pay what you can or swap what you've got basis.
You tell her about the occasion or the person you'd like the poem for, and she writes a made-to-order piece. Some examples of her work and the order form are here.
For the gardener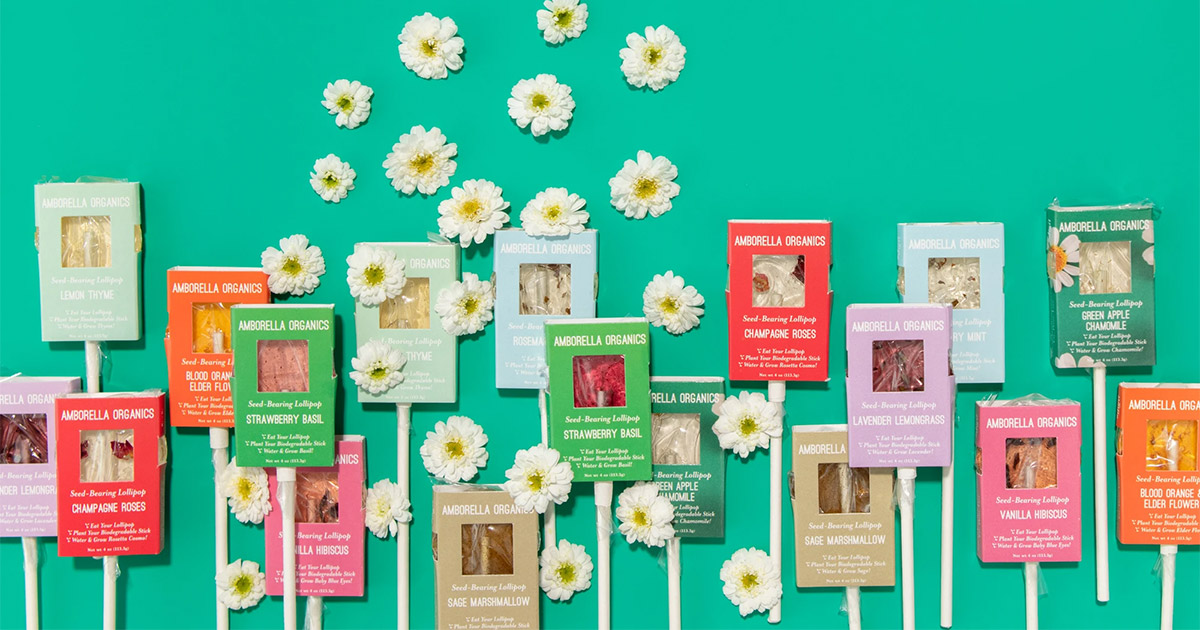 Plantable lollipops from Amborella Organics
For the gardening lover, Amborella Organics offers a sweet and unique gift—lollipops in creative combinations such as rosemary mint or lemon thyme that you can savor as a treat, and then plant the stick after!
The sticks contain seeds for a herb or flower of your choice and can be mailed in single flavor packs of lavender lemongrass, peach marigold, rosemary mint, vanilla hibiscus, sage marshmallow, lemon thyme, champagne roses, green apple chamomile, strawberry basil, or in variety packs in groups of 20 or 80.
For the foodie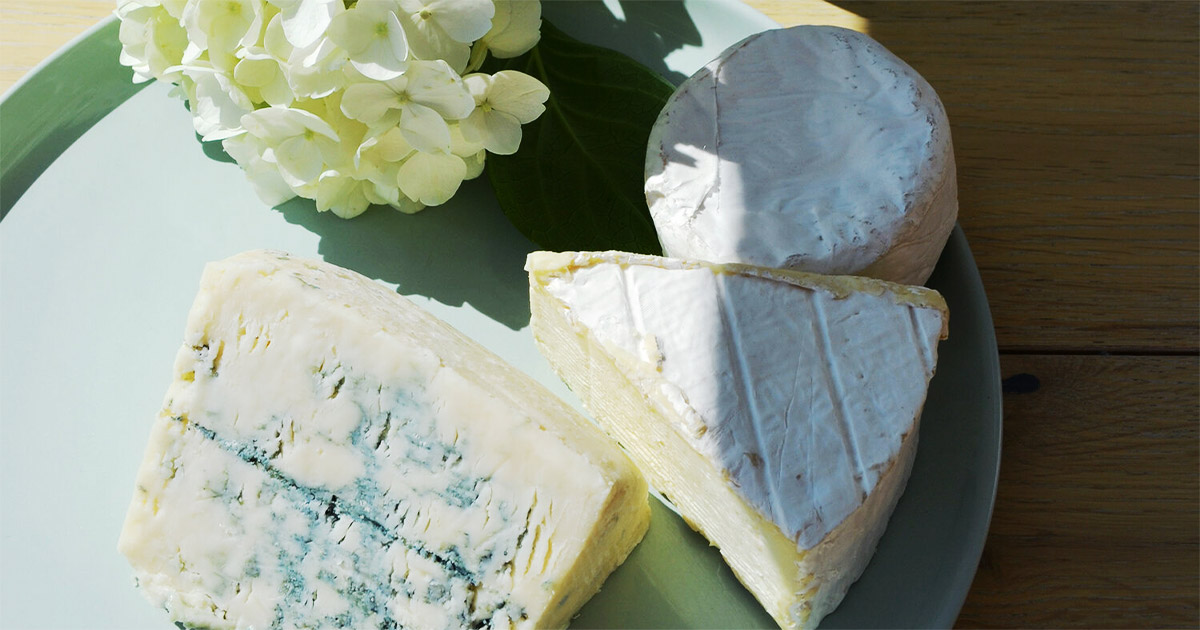 Cheese care packages from Old Chatham Creamery
Old Chatham Creamery, based in upstate New York, is famous for their cheeses. They produce twelve different types, in fact. Two of their cheeses won #1 and #2 Best In Show at the 2019 American Cheese Society Awards from a selection of 1,742 cheeses.
To keep their 33 employees working, and the artisan cheeses from going to waste, the company is offering cheese care packages with four cheeses, two kinds of crackers, and jam or quince paste in every package.
For the lounger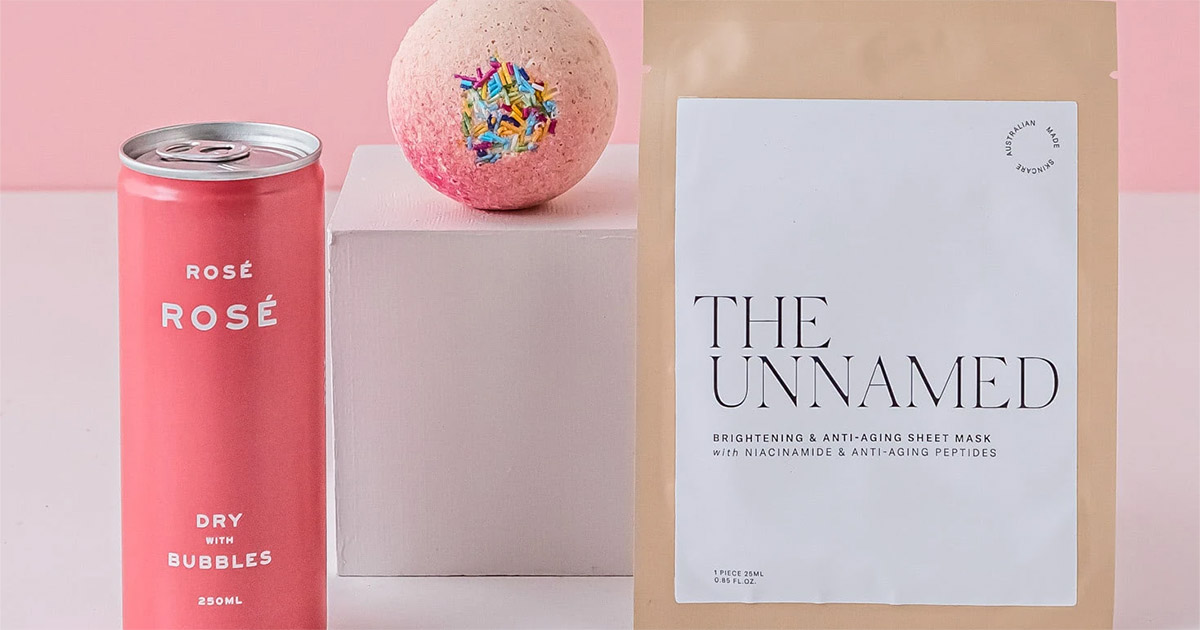 Friday Night in a Gift Hamper from Leo Loves Coco
For your friend who loves a good long soak in the tub, Leo Loves Coco does a gorgeous gift basket just for them.
Their Friday Night in a Gift Hamper collection includes a face mask, a bath bomb, and some wine—the perfect trio for a night of self-care.
If that package isn't quite perfect, you can also choose from myriad other hampers they offer or build your own custom care package with them.
For the tea and coffee enthusiasts
Mymimistar is a Cairns-based company specializing in a variety of beautiful care packages.
If you have a tea drinker in your life, their tea lovers gift box—which includes a mug, a porcelain dish, a heart-shaped tea strainer, a local honey and dipper, a succulent, a gift card, and their signature loose leaf love tea—is perfect.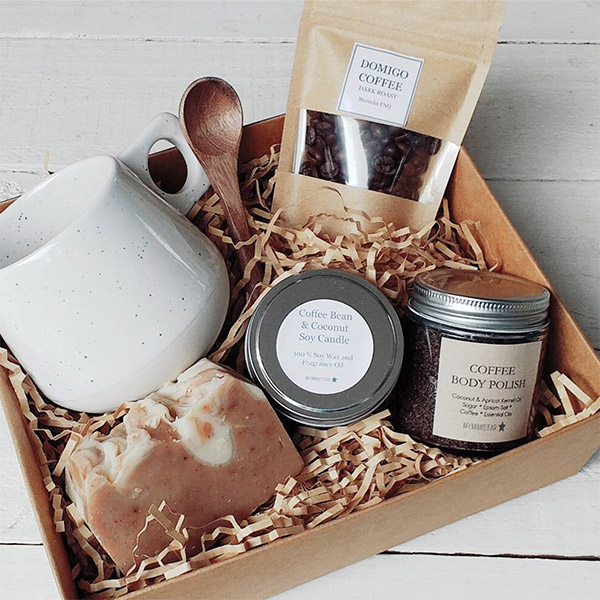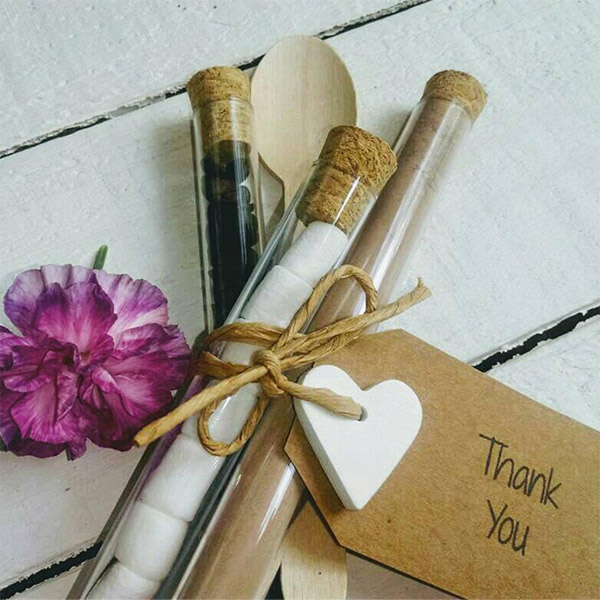 The coffee box and hot chocolate gift set from mymimistar
For the coffee quaffers, their coffee box includes a coffee sugar scrub in a glass jar, a gorgeous wooden spoon scoop, a coffee bean and coconut soy candle, a glazed cup, a coffee and cream soap, a card and envelope made from recycled materials, and 30g of local coffee beans.
If you just want to send a small and simple gift to brighten your friend's day, the same company's hot chocolate gift set is a mini care package consisting of three beautiful glass test tubes filled with hot cocoa powder, coffee beans, and mini marshmallows, all tied with a ribbon and a little note of your choosing.
For the nester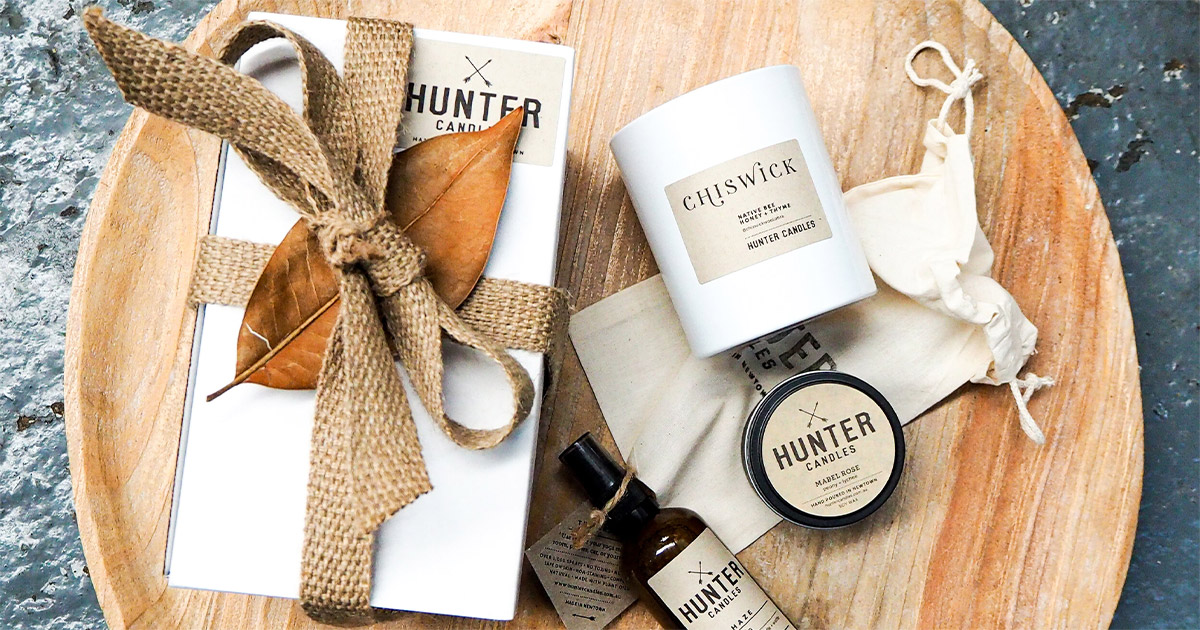 Brighten Up box from Hunter Candles
For your friend who has made their home the main quarantine project, what better gift than a series of beautiful candles, to light up their space and fill it with lovely odors?
Hunter candles is a Newtown-based candle company. Founder and candle creator Vianney Hunter makes her candles in clean, earthy scents.
Her company has an environmental focus, with Australian-made packaging that uses 80% recycled materials. The candles themselves are hand-poured using Ecosoya wax—a biodegradable and pesticide-free wax—and include non-toxic fragrances.
You can send an individual Hunter candle, in scents such as peppermint + eucalyptus, basil + cucumber, or lavender + sage. Their signature Australia candle, with a blue gum + lemon myrtle + wattle scent, is especially nice.
If all of those sound perfect and you can't choose between them, you can order a trio of three baby candles in three different scents, or send a candle a week or candle a month subscription, which is perfect for nesters who are working from home.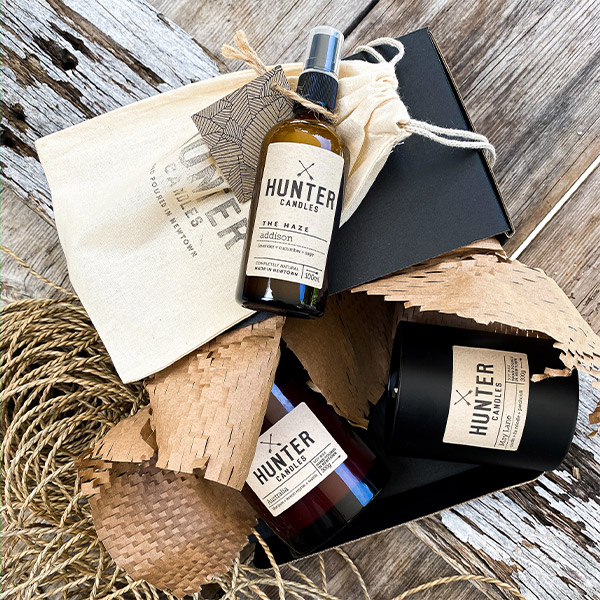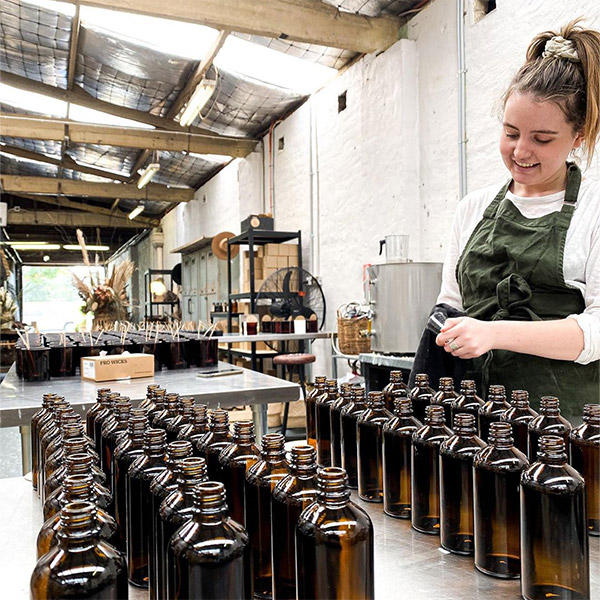 Cool Calm Collected box and some hand pouring in action from Hunter Candles
You can also send their Cool Calm Collected box (two candles and a room spray perfect to clear smells in the kitchen, bathroom, or home gym) or their Brighten Up box (one large candle, one smaller candle, and a room spray).
Whichever you choose, Hunter candles will bring a beautiful look and even more beautiful smell for your friend who is nested in at home.
For the safety-conscious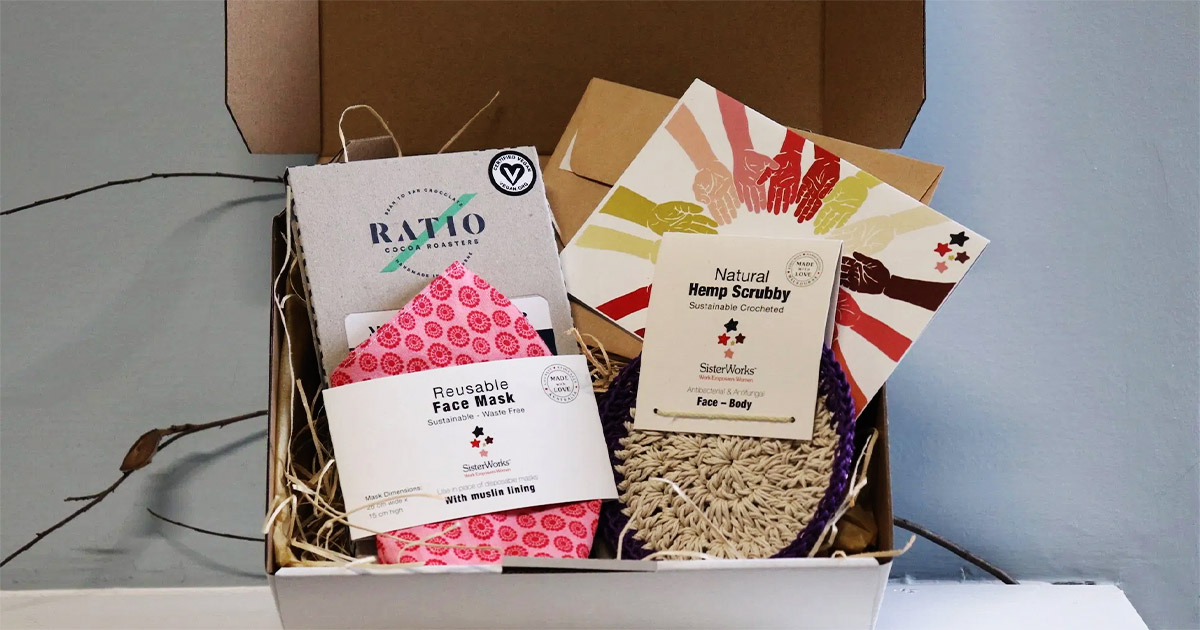 Hamper care package from Sisterworks
The nonprofit organization Sisterworks employs women from refugee, migrant, and asylum-seeking backgrounds across Australia.
When the hubs had to close after lockdown, the organization kept the women employed with mask-making from home.
The masks are made from donated materials and are available to order on their own in solid colors or patterns or as a part of a hamper care package or self-care package that includes other goodies alongside the masks.
Choose your own adventure
You can also disregard the previous examples and go it on your own. Keep it simple with a gift card and a thoughtful note or make something with your own two hands to send (with Sendle, of course).
Wrapping it up
It's so difficult to be separated from the people we most wish to be around.
During this strange time when you can't give hugs to the people you love the most, consider sending one of these thoughtful care packages to brighten their day instead!