March 30, 2021
Maggie Greene: Merging personal style & sustainability for career women
by Sean Flannigan
Style is personal, an outgrowth of all the little things that make a person uniquely them. Where that intersects with presenting one's self to the world is where it can get difficult—balancing who you are with what you are expected to be.
Maggie Greene gets it. Obsessed with her own personal style since she was toddling around—and despite growing up with little—she's been using what's around to outfit herself in her own unique way.
Using what's available is a big theme in her work. She operates from a secondhand-first philosophy, reducing the waste from fast fashion and focusing on increasing the lifespan of clothing.
As a style consultant for career women, she teases out the personalities of her clients in order to create their own personal brand as well as their personal style.
With a focus on being boldly themselves and doing it sustainably, her clients can go out into the world more confidently and better educated about their environmental impact.
And, she's got a new event for everyone to check out! So, before we do a deep dive on all things Maggie Greene, let's learn about her PNW Style Virtual Panel.
Maggie gave us the whole rundown about this event happening on April 1st, 2021 from 1PM - 4PM (PST).
A bit about the PNW Style Virtual Panel
Tell me about your upcoming PNW Style Virtual Panel. How did you come up with the idea for it? What do you hope to see come out of the event?
PNW Style is like grad school and group therapy for your closet.
The vision is to start a conversation with people who may not ever have given any deep thought to what they wear. I want sustainable style to be accessible to everyone, and this event is one way to introduce that idea.
This dynamic virtual experience is partly a primer for a more well-established event founded by a woman of color right here in the Pacific Northwest—The Sustainable Fashion Forum—and partly an anniversary celebration (as of April 1, 2021, I will have been in business for one year).
A colleague reached out to me originally asking to collaborate on a webinar, but I pushed back and suggested that we think bigger.
I envisioned a virtual summit with multiple speakers and session modalities.
The result is a virtual panel and more, featuring makers, designers, and experts from the fashion industry having a real, down-to-earth discussion about our relationship with what we wear.
I hope attendees will walk away with new knowledge and insight, of course. But, more than that, I want them to feel empowered to take action.
You created a

Cost Per Wear Calculator

. How did that come about and what do you want people to learn from it?
Cost Per Wear is such a simple concept and tool, but what it reveals can be highly compelling.
In thinking about takeaway resources that are evergreen—meaning they have value beyond a fixed moment in time, such as this event—I wanted to offer something simple that anyone could use and reuse.
It goes right along with my low-barrier, high-impact approach to resources.
Most people do not think about their wardrobes in this way. They buy. They wear. They store. And that's it. This tool enables them to see cost against ROI.
How much did they spend on a garment, and what is the value of the garment based on how often it is used?
I hope it will help bring awareness to our choices as consumers and help attendees buy more thoughtfully going forward. The panelists and I will show this tool in action during the Build a Conscious Capsule workshop portion of the PNW Style event, so keep an eye out for that.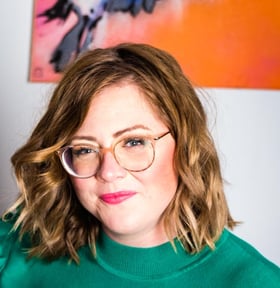 Maggie Greene
Name, title & location
Maggie Greene, Chief Everything Officer | Seattle, Washington
Socials
Instagram | Twitter | Tik Tok | Facebook | Poshmark
How would you describe your business in a few lines?
Maggie Greene Style is career style with a conscience, and I put the personal in personal brand and style. I'm a passionate one-woman "band" on a mission to transform how you see yourself at work.
I support makers, doers, and professionals on everything from wardrobe to resume, with a focus on high-impact low-barrier resources.
Together we create bold personal brands that help them stand out in their careers and stand up for the planet. Most of my clients are looking to advance and level up, re-enter the workforce, or pivot to a new industry.
I also support new women business owners in developing their vision, voice, and brand story.
How about just three words?
Be. Boldly. YOU.
How did you get into the business of style consultation?
From an early age, I was always obsessed with style. My three favorite things in the world are clothing, shoes, and accessories.
But personal style is not just about the clothes. It's about our relationship with what we wear and how we show up to the world.
I spent most of my career in marketing and communication, which is where the personal brand piece comes in.
When the pandemic hit, I spent a lot of time reflecting on what was important to me. I asked myself what I could imagine doing for the rest of my life, and this is it.
So, I quit my 9 to 5 and launched my business in April 2020.
How does sustainability figure into your work?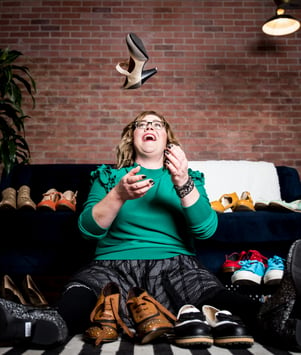 Sustainability is integral to what I do.
On the wardrobe side of things, I approach all sourcing with a secondhand-first mindset. Reducing fashion waste and increasing the lifespan of clothing is important to me.
Part of my role is to educate and draw awareness to the fact that we all have the power to choose where we invest our resources.
By investing in the local economy (resale, secondhand, thrift) we ensure those dollars don't end up in destructive corporate pockets.
On the personal brand side of my business, I'm an evangelist for DIY. I help my clients see that everything they need, they already have.
By connecting them with free or low-barrier resources and showing them how to leverage those resources to maximize career impact, I help them create sustainable strategies, systems, and stories that they can maintain on their own.
How does thrifting and the circular economy fit into your overall fashion philosophy?
One thing to point out here is that, for me, there is a distinction between fashion and style.
I have high hopes for the fashion industry. I see it moving to circular models and being more conscious of its role as a top global carbon consumer. There is so much work to be done.
For my part, I help people see alternatives to "big box" and "fast fashion" retail. I help them understand the capitalist narrative around the industry and how deeply ingrained it is in our culture.
I help them take action in alignment with their core values.
In my opinion, the fashion industry is directly responsible for creating some problematic rules and standards. My philosophy, however, is that there are no rules in personal style.
I often follow and engage with emerging sustainable brands by featuring them on my blog, sharing them as resources with my clients, and I am committed to lifelong learning.
One of the best resources on this I've found so far is the Sustainable Fashion Forum. That event was ultimately the inspiration for PNW Style.
Given that big retailers have made it so easy to buy cheaply, how can people buy responsibly on a budget?
The easiest and most effective way to counter the fast fashion issue is to use what you already have.
Get ruthless with yourself about what you "need" versus what you feel compelled to buy. By not buying into it, making a conscious and intentional decision to withdraw your support, you take your power back.
Secondhand is accessible, affordable, and equally impactful for personal style.
Online resale platforms are another great avenue for sourcing secondhand. Price points on used clothing are up to 95% less than MSRP, and these are items that have been worn a few times at most.
It's a win/win.
What do you think of the rise of secondhand online marketplaces in the last several years?
I think it's fantastic and long overdue!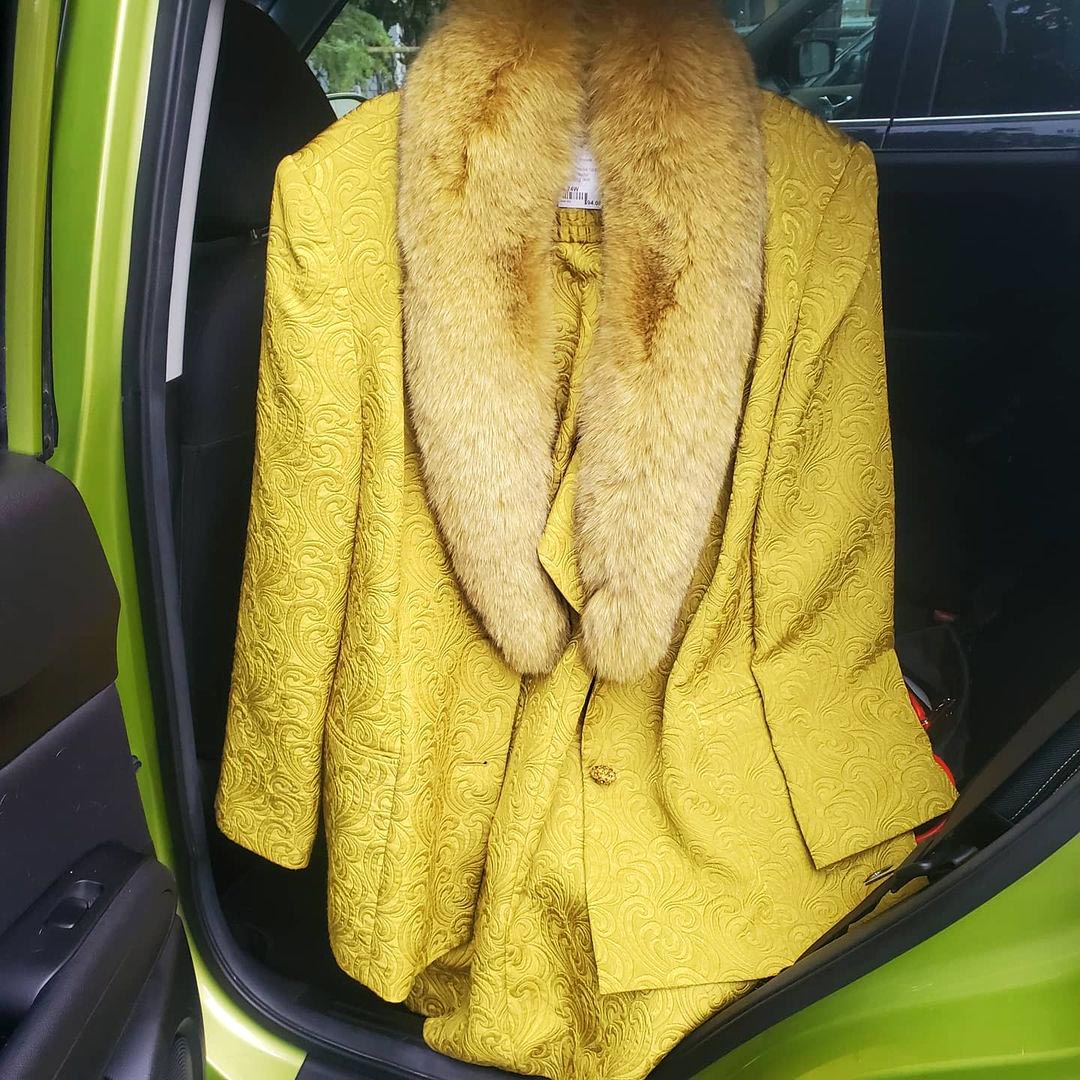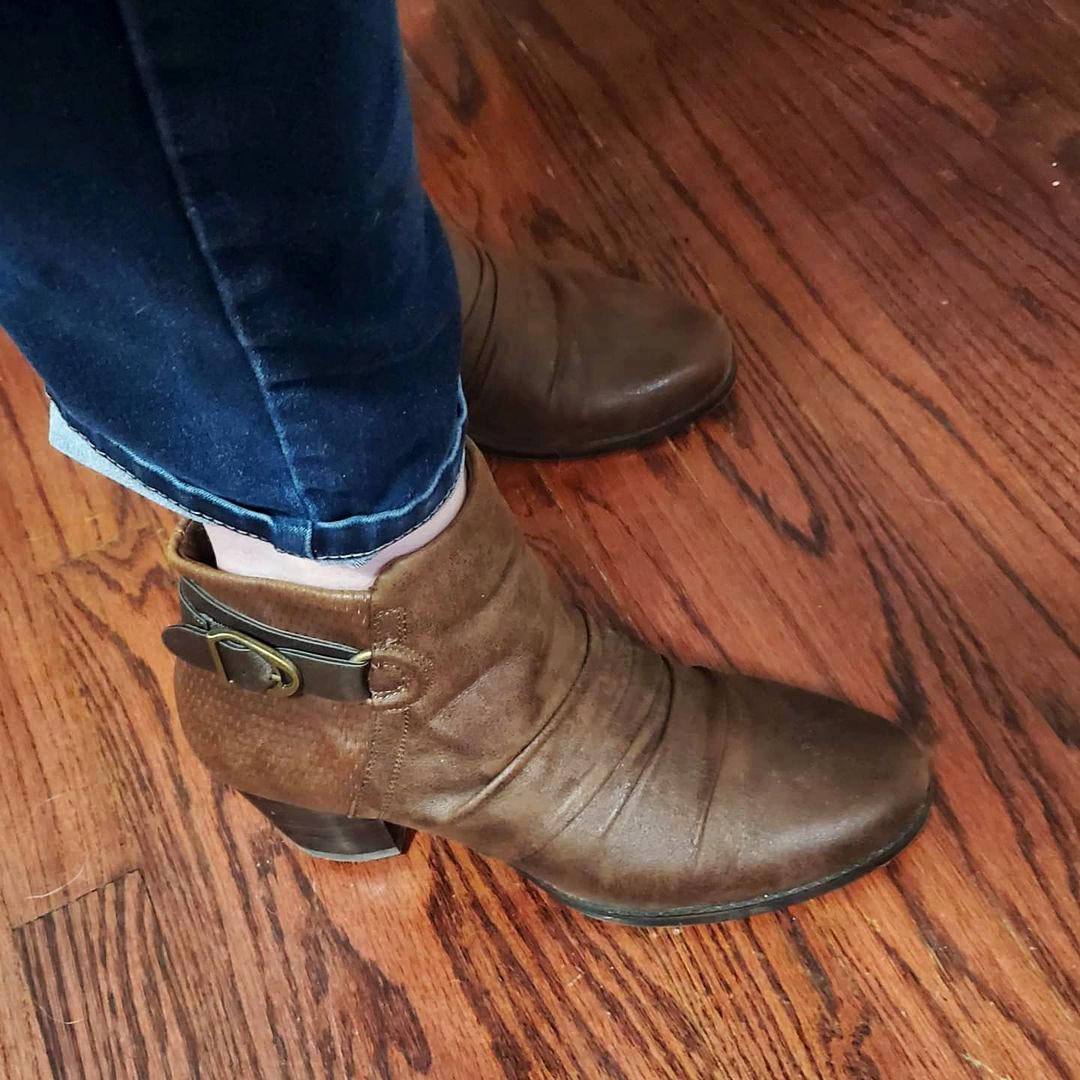 Every other facet of our lives is enabled by technology. A virtual marketplace just makes sense. What's especially cool about it, from my perspective, is the emerging resale-as-a-side-hustle community.
These are people, mostly women, who can now monetize their unwanted items.
Donation is great, but we know how oversaturated those markets are. Often, if donated items don't sell in the brick and mortar thrift stores, they end up in outlet centers, then on down the line to landfill.
The digital space offers an opportunity to engage even more around what we wear.
Stay-at-home moms, creators, hobbyists, and 9-to-5ers alike can take full ownership of where their clothes end up, and be a part of that process.
For people like me, leveraging online secondhand marketplaces is a game-changer. I can resell items that don't fit anymore or that aren't getting enough airtime in my everyday rotation, and use the money to invest in new-to-me items that fit.
Another thing I love about it is the direct connection it fosters among people, versus the disconnected hands-off relationship between a consumer and a major retailer.
With platforms like Poshmark and Depop, you can reach out directly to the person selling the item(s) and ask questions, get more details (like garment measurements and additional photos), and negotiate pricing.
Has personal style always been important to you?
Oh, yes, from toddlerhood at least.
It's more important to me now than ever, and it is increasingly important the more I work with clients.
Not only do we address the obvious things like aspirational aesthetic and work environment, but we also talk a lot about "hangups," too.
This business, the intersection of personal brand and personal style, is all about personal growth and owning your uniqueness. As much as it is support for others, it's been a journey for me personally as well.
How did your work in marketing and comms inform what you do now?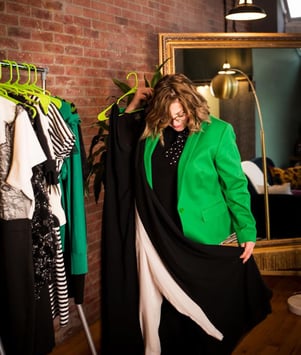 I've worked in marketing and communication for most of my career, primarily in male-dominated industries.
Many of the principles and tools in marketing show up in personal brand and style, and I'm a firm believer that communication is the foundation for everything.
I also use core skills from previous work in project management, operations, and community engagement every day to develop and deliver client deliverables and programming while running the business.
Immediately before launching Maggie Greene Style, I worked in marketing for an event technology company. The pandemic opened my eyes to the fact that I'd been going in the OPPOSITE direction of my dream for my entire life and career.
With some support, I shifted my mindset from "What if I fail?" to "What if I succeed?" A year later, I'm still standing.
Do you think you'd be doing what you are doing today if you grew up not worrying about money? Creativity seems to thrive where options are sparse.
This is an interesting question, one that I've never been asked before.
I honestly can't speak to what my life would be like now if I hadn't experienced abject poverty and lack of resources growing up. That was all I knew and my frame of reference for everything in my life.
The lack of resources was always so apparent. I knew what money was only after learning it was something we didn't have.
So much in my childhood was put into that context. But yes, for sure, necessity is the mother of invention, right? While "making do" was the M.O. as a child, it blossomed into making and doing as an adult.
All roads led me here.
I imagine if things had been different and resources were abundant back then, I would still be in a creative field of some kind.
I would still be passionate about making an impact on people's lives, particularly women. I would still be obsessed with clothing, shoes, and accessories at the end of the day.
How do you reveal the personal styles of your clients? What people feel comfortable in is very personal, isn't it?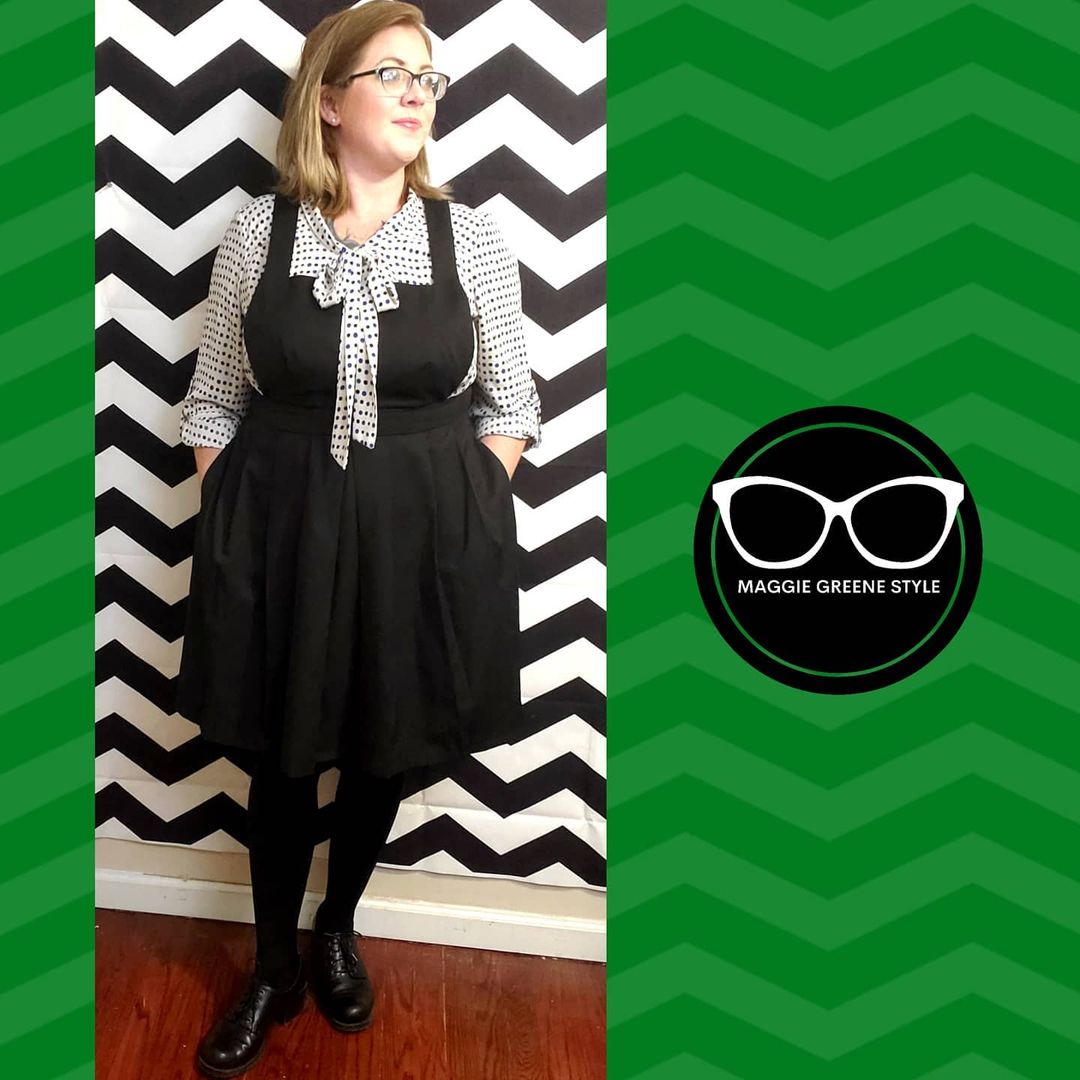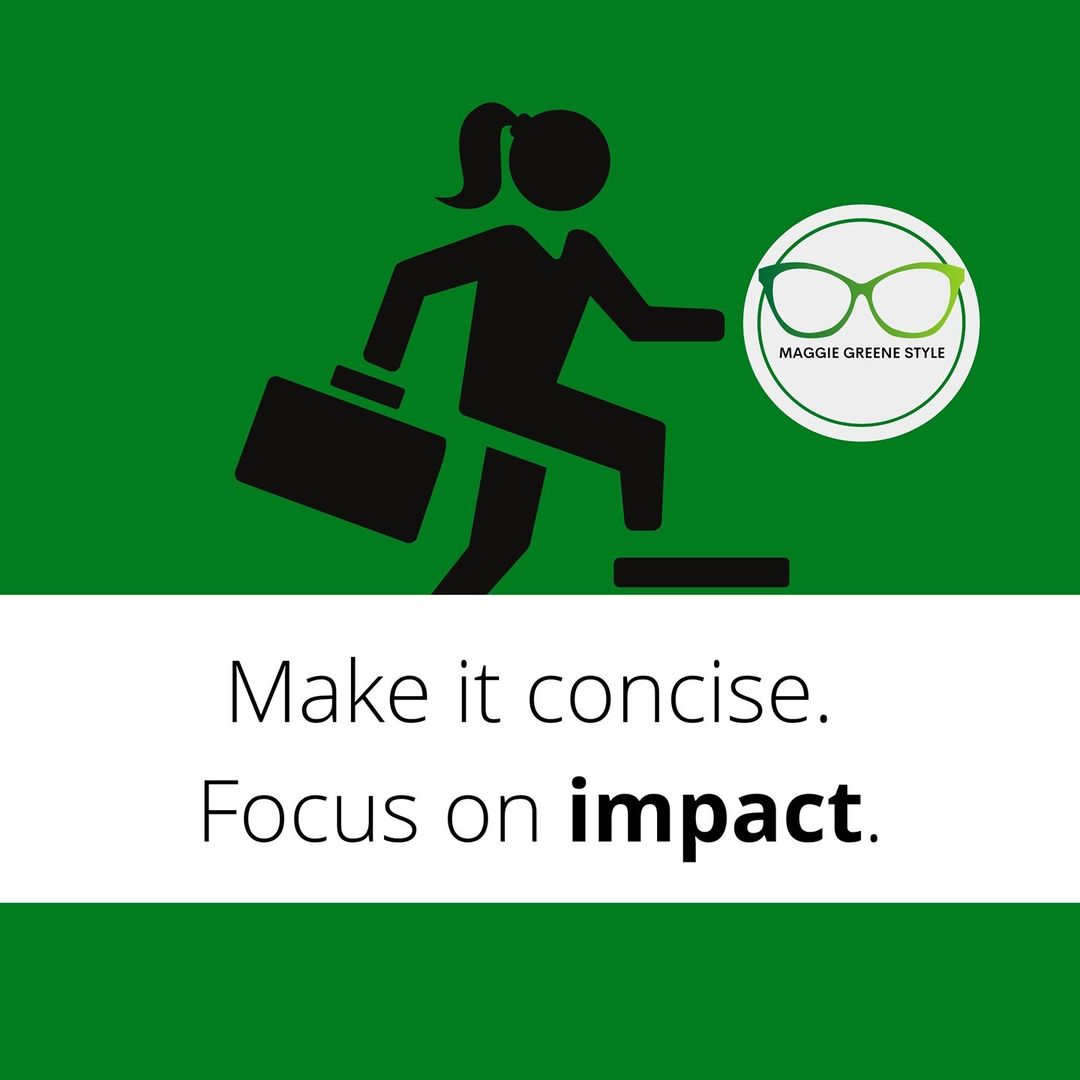 It's a process. And of course, every person is different.
We typically start with hangups, unpacking proverbial baggage around how they see themselves and what they wear.
We spend time reflecting, asking introspective questions, and documenting goals.
We collaborate with visual tools to identify and establish a cohesive "signature style," and sometimes there is more than one. In cases where multiple styles are revealed, we develop style personas based on mood and other contexts.
That way, they have tools and formulas with names and clear characteristics.
Some clients feel less connected to clothes and more connected to data. In those cases, we systematize their closets using coding conventions and variations to help eliminate decision fatigue and make it easy to get dressed with little to no thinking involved.
What are some of your personal favorite small businesses?
Love this question!
There are too many to list, but I'd like to take the opportunity to share about some amazing small businesses owned by women of color:
Those that are bolded above are brands represented by panelists and guest speakers at PNW Style.
What advice would you give someone just starting their small business? Things you'd avoid? Things you wish you'd done?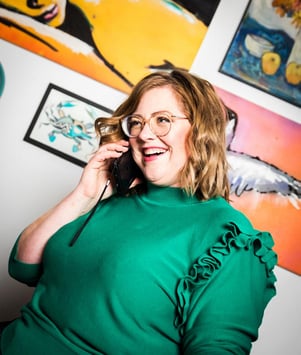 Another question I've not been asked before—love it!
To anyone considering entrepreneurship or preparing to launch a small business, I would offer the following:
You are the only you there is in the entire world. All of your experiences, positive and negative, are critical components of who you are and what you have to offer.
As you consider diving into the deep end of entrepreneurship, know that looking inward is as important as looking outward.
Make it clear, on paper, what you stand for, what your values are, and articulate your vision based on what it means to you first. The more radically you you are the more your target audience will be drawn to you.
Do the inner work to ensure your mindset is ripe for growth. Rather than sweating over what you perceive as competition, be boldly you.
Get your operational house in order: budget, overhead, all of it. Document your business plan and keep it handy, but also be prepared for it to evolve organically over time.
If you're considering enlisting the support of a business coach, make sure you really need one. By that I mean, sometimes what we need most is validation. Someone to tell us our idea has legs.
But if you don't have that deep inner knowing and confidence that who you are and what you have to offer is valuable, you will fail.
I would also say that failure is integral to success. It's part of the process. If you are willing to fail, learn from the experience, and carry that insight forward, nothing can stop you.
Things to avoid:
Comparing yourself to others
Isolating (community support is HUGE)
Making promises you don't intend to keep
Pay-to-play marketing opportunities
Perfection (there's no such thing, anyway)
Things I wish I had done (more of, or sooner):
BE VISIBLE
Content/copyright protection of intellectual property
Explore/pursue funding options for small business to support YOURSELF as you establish and grow your brand (federal, state, or community grants; SBA loans)
Pay yourself commensurate with your VALUE
Set clear expectations (under-promise, over-deliver, never the opposite)
WRITE about the work, the vision, the story
Photo source: @greenstylemags