February 24, 2021
Natural Ash: Nursing your skin back to health
by Sean Flannigan
Your skin is your largest organ. It protects the inside of your body against all the slings and arrows of the outside world. So, obviously you should treat with the respect it deserves.
Who better to guide you toward a better relationship with your skin than a nurse?
Having seen her fair share of underloved epidermis as an Oncology Nurse, Ashley Cummings wanted to do something about it. So, she started Natural Ash.
Wanting to create a product that was safe enough for immunocompromised people while effective for dry and damaged skin, she landed on body butter as the ideal solution.
I talked with her about starting her skincare side hustle, balancing her day job and her business, and what her plans are for growth.
Sendle's small biz quiz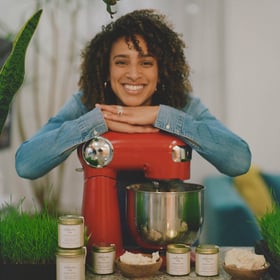 Ashley Cummings
Name, title, and location
Ashley Cummings, Founder | New York City, New York
Business
Describe Natural Ash in just a few sentences.
Natural Ash is a brand that promotes self-love through your skin.
Our skin is our body's defense against everything on the outside, so we have to protect it. Natural Ash focuses on the importance of healthy care for your skin, using clean and minimal natural ingredients that target what the skin really needs—moisturizing.
When our skin is comfortable, we are able to take on everything that life throws at us.
We are all busy all the time. Skincare routines for your body can take less than 5 minutes—that's what we want you to do for YOU.
How would you describe it in just three words?
Smooth. Necessary. Moisturizing.
How did you come up with your brand name?
Our name, Natural Ash, was created because I use natural ingredients in our products, meaning no harmful chemicals.
Ash comes from my name, Ashley! All of my family and friends call me Ash. One day my cousin Jessica was like, "call the brand Natural Ash!"
When did you start Natural Ash? What made you decide to start a business?
I started Natural Ash back in 2017.
I'm an Oncology Nurse and part of my job is to assess the patient's entire skin. Honestly, I'm always looking at skin and wondering, do they know their dry skin patches could get better?
As a nurse, you always see yourself assessing a person from head to toe—we're just so accustomed to doing so.
Many of my oncology patients experience the side effects of chemotherapy—which can be dry and brittle skin. It is very uncomfortable and can lead to a negative self-image.
Many of the creams prescribed or suggested to patients contained many ingredients that are actually known to dry out the skin or cause other side effects. The more I learned, the more I started to see what was in the products that I was using.
That night, I went home after work and started to research how I could create a skin cream.
I wanted to provide a product that was safe enough for immunocompromised patients, as well as everyone who either has a skin issue, sensitive skin, or just wants to make sure their skin remains healthy.
Why did you choose to sell body butter? Were there any other products you thought about selling?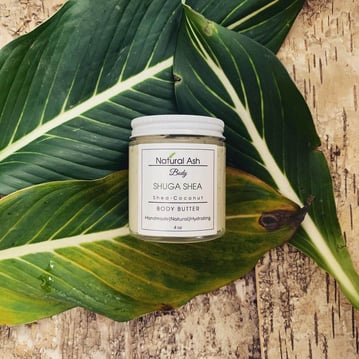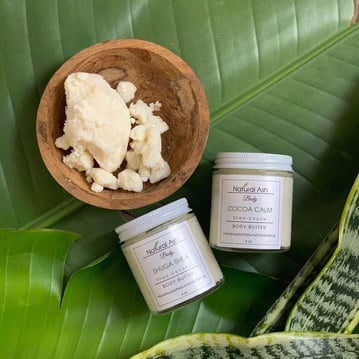 I chose body butter because of the ingredients I could use, like Shea Butter.
I've always loved raw Shea Butter but wanted a body butter that was smooth, easy to apply, and long-lasting. I am creating a product that does not contain water.
By eliminating water, I am able to forego preservatives and still have a product with a shelf life of 1-2 years.
I also thought about selling body scrubs and tried, but I did not enjoy creating them as I did the body butter. So, I put that idea on the back burner. It is so important for me to have fun and enjoy creating a product.
I put positive energy into the process of making my products because someone will use the product on their body. I only want to pass on positive vibes.
Do you have plans to expand your product line?
I started out Natural Ash with body butter as my only product.
I expanded into using different essential oils to elevate the skincare routine. Available now are the Naked/Unscented, Lavender/Lemongrass, Sweet Orange, and Vanilla.
They are made using natural and clean essential oils, with no additives. Never artificial fragrance. They provide an experience for the user—whether they want that burst of energy from Sweet Orange, or want to wind down after a long day and get cozy after using the Vanilla scent.
Now, we also offer a Lip Butter Balm. That comes in Vanilla, Pink Grapefruit, and Peppermint.
I have started working on a body butter bar, that is also a moisturizer. That is the next product that I would like to drop. I'm also working on apparel—loungewear for all shapes and sizes that our skin will feel comfortable in.
You're currently a Registered Nurse, right? How did you have the time to start and run a business on the side?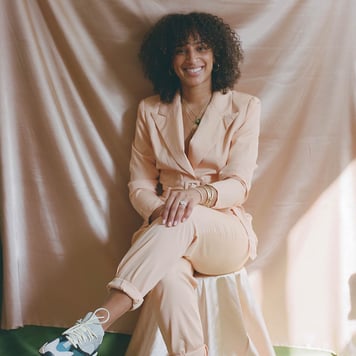 Yes, I am a Registered Nurse. I balance working full time and my business.
This is a constant challenge! I tell myself, "if you can dedicate time to the hospital, you can give yourself time to grow your brand".
Since I work in a hospital, my schedule consists of three 12-hour shifts. This gives me time during the week to work on Natural Ash.
I make sure to have a plan for my days off on what I want to accomplish. I mean some days, it may not happen but then I'll make up for it on others.
The days that I do work, I'll give myself simple tasks that I can do after work before bed.
What sets you apart from other skincare companies? What do you bring from nursing to your products?
Skincare is an essential part of nursing care. We are always discussing skin in patient body assessments.
There are always initiatives around skin health of patients and the importance of skin health for one's self-image.
What sets Natural Ash apart from other brands, is that I am a Registered Nurse. I have been educated and trained to take care of people, particularly when they are most vulnerable.
I use my experiences from nursing when I come up with ideas for Natural Ash, as well as mixing together ingredients.
When creating products, I think of those I've treated that had eczema, or someone that may have developed a skin infection due to lack of skincare.
So, when I create my products my goal is to be able to provide a product that makes others feel good physically. That then helps their overall well-being.
The beauty business is huge and there are so many brands out there standing for what they feel is important. For Natural Ash, it's promoting healthy lifestyle practices and products so that people know how to take care of their skin and understand why it's so important.
Where do you see Natural Ash in five years? Do you envision ever making it your main gig?
I hope to see Natural Ash as one of the top Black woman-owned clean and minimal skincare brands.
My plans are to continue to grow the eCommerce sales, as well as partner with other retailers to showcase Natural Ash in person.
My goal is to make Natural Ash my main source of income.
So, yes I want it to be my main gig! Although, I would also want to continue practicing nursing, but per diem.
This way I can keep my skills as healthcare is always evolving and changing. After all, nursing is the foundation of Natural Ash, so it will never go away from my life.
What advice would you give someone just starting their small business? Anything you wish you would or would not have done along the way?
Make sure you secure a name and get all of the legal steps done before starting anything else!
Apply for your LLC and trademark (if that is the route you want to go). Once that is all done and out of the way, it's such a relief. This is one thing I wish I had done from the beginning.
Also, just START!
I waited and waited, thinking that no one would buy my products. I would have every excuse as to why I was not ready to launch. Like, I would have to do this first, or that first.
Once I got all of that out of my head and just launched and set a date and put it out on Instagram, I knew I had to follow through.
Figure out how you want to sell your product and then you'll get the trust of people when they purchase. You can't let them down, so then you have no choice but to deliver!
What does sustainability mean to you? How does that play out in your business?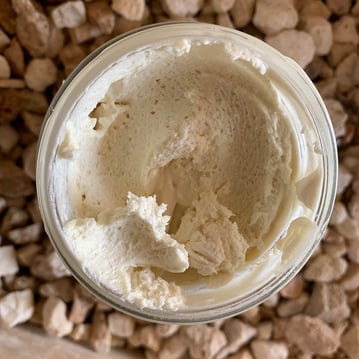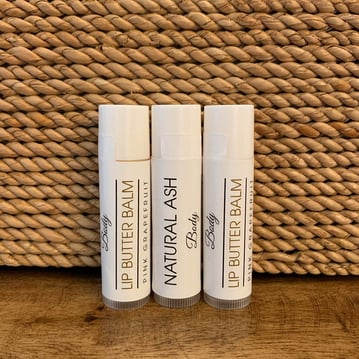 For us, sustainability is sourcing ingredients that are simple and easy to read without having to google everything.
We also are cruelty-free and vegan.
This provides a product that is a simple solution to skincare. This is one product, one glass jar that can be used for your entire body.
The focus is on minimal skincare—which means you don't need 10 different plastic bottles of body moisturizers. Then, when you finish your Natural Ash, you can wash and reuse your jar for whatever you need!
What are your favorite small businesses?
You can have amazing body butter like Natural Ash, but you also need to cleanse your skin before.
That's where Terra Tory (@terra_tory) comes in. She provides a package-free handmade soap without palm oil and chemicals.
It's great for the skin and doesn't contain all of the harsh chemicals that some brands contain.
Another favorite is Candle Gawdess (@candlegawdess). When I'm in production mode and making products, I love to set the energy for my space. This includes candles.
The creator uses coconut apricot wax, making it safer without any chemicals and less smoke and soot.
What is your favorite thing to listen to when working? Albums, playlists, podcasts, complete silence?
A lot of times it depends on what time of the day it is and my energy level.
In the mornings, I like to have a calm start so I might listen to some old school R&B or even spa music.
Now, if I'm going to work on products or just administrative work after a nursing shift, definitely complete silence. I listen to call bells and bed alarms for 12 hours, so I just like to come home to complete silence!
When I need to get the orders packed and out, I like to have a lot of energy—that's when I play some Pop Smoke!
How did you find Sendle? How is it working out for you?
When I first started shipping orders, it was all trial and error.
My first shipment during the launch included a long time spent at USPS. I brought all of my packages and keyed in every address on the kiosk and printed labels.
Then I had to go and write in all the names because I could not figure out how to do it on the machine.
Now, I think about how many hours I spent mailing stuff before, but it's all a part of growing. During one of my trips, I saw a woman come in with a bag of boxes and just drop them in the mailbox and leave.
That night I was researching shipping services and came across Sendle and signed up. It was so quick and easy. I was able to prep everything at home and just drop it off in the box, super convenient!
It's been working out so well for me and I've saved so much time. If there is ever an issue with a package (things happen!), it is always resolved and I appreciate that so much.
Photos coutesy: Natural Ash