April 14, 2021
Amplify Bookstore: Bringing BIPOC representation to your bookshelf
by Sean Flannigan
Everyone deserves to see themselves represented in media—television, film, literature. But, for so long, a majority of the characters on screen and in books have been white, unrepresentative of a vast segment of consumers.
So many BIPOC readers grew up without being able to identify with the characters they were reading. The publishing industry perpetuates this problem, even as readers have demanded more representation.
Seeing this problem in the industry and from their own lived experiences, Marina and Xuan wanted to provide a place where shoppers didn't have to dig to find books by BIPOC authors.
And so they created Amplify Bookstore, an online shop that only sells books by authors of color, amplifying their voices amidst an industry that is so overwhelmingly white.
I interviewed Xuan and Marina about how they decided to start Amplify, where they see it going, and their top five favorite books.
Sendle's small biz quiz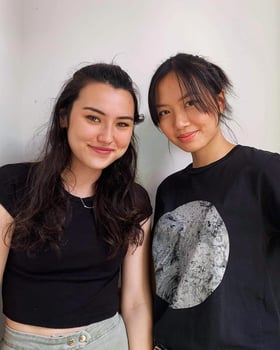 Xuan & Marina
Name, title, and location
Xuan & Marina, Founders | Melbourne, Australia
Business
How would you describe Amplify Bookstore in just a few lines?
Xuan: Online bookstore dedicated to BIPOC authors.
What if you only had three words?
Xuan: Bipoc books only.
Marina: Amplify BIPOC voices.
Tell us about you. What are your stories?
Xuan: I grew up in Singapore, and always had a love for reading since we didn't have many toys growing up (my parents hated giving us toys) and we weren't allowed to watch Disney or Nickelodeon.
I moved to Melbourne on a whim to start uni and it was one of the best decisions I've ever made.
I did my undergraduate in Screen & Cultural Studies and it was around the time when discussions about race and representation were really starting to grow in the industry.
Race and the whiteness of our media have always been on my mind, but it was only in the last year that I've truly paid attention to the publishing industry and realised how white it is and all the problems that came with it.
Marina: Growing up as an only child meant occupying myself with solo activities and my favourite way to pass the time was always reading.
I moved to Melbourne at 18 for uni and I've been here since. I got my undergrad in Psychology and English Literature before starting my Publishing master's.
In studying literature and the publishing industry, I've become increasingly aware of how much of it is a monolith of sameness that allows no space for marginalised and underrepresented voices.
This was also what made me realise that as a mixed-race woman, I had quite literally never seen any media/books about anyone like me until I was about 20.
So now, a big part of Amplify is us trying to make sure that other people get to have that experience at a more reasonable age.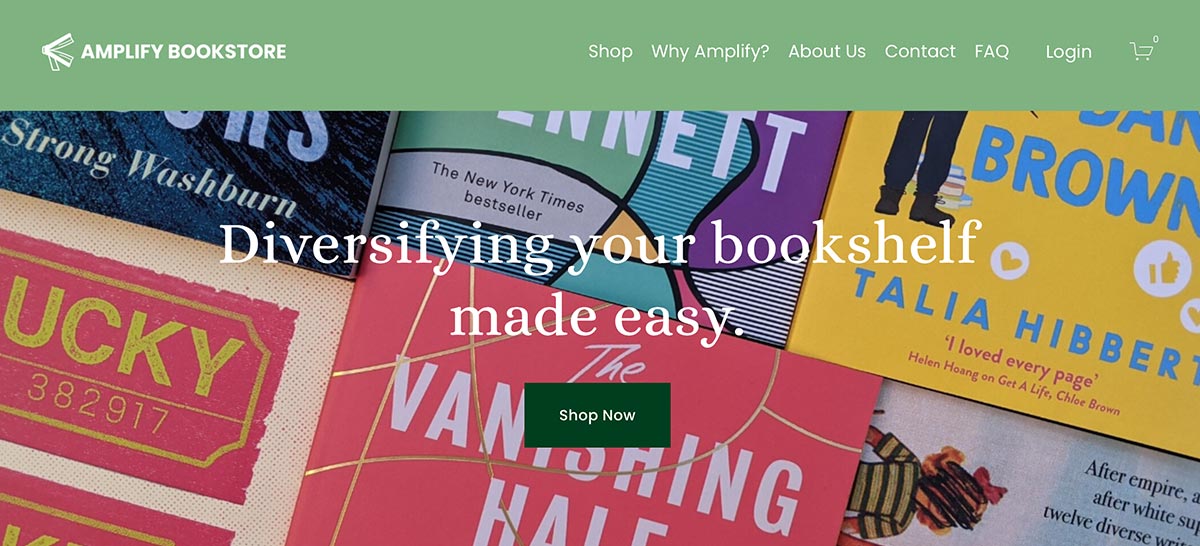 Photo courtesy: amplifybookstore.com
How did you come up with the name? Did you have a few options to choose from?
Marina: We brainstormed for quite a while.
We knew that it had to be something about centering (amplifying, you could say haha) BIPOC voices in publishing but also something that would stand by itself as a brand image.
Honestly, I can't remember any of the other names we had anymore, but I remember that when we came up with Amplify, we both pretty much knew that this was it.
Xuan: BIPOC BOOKSTORE was the only other contender I could remember, but we wanted something that is less overt, to be more accessible.
How and when did you start Amplify? Are you running this business while at University?
Marina: We opened last November!
We've both got about a year left of our Master's of Publishing and Communications, so yes, we're running the store alongside our studies.
Xuan: Amplify started as an idea for a publishing house, but we quickly realised we don't have the capability to actually run a publishing house, so we pivoted to a bookstore.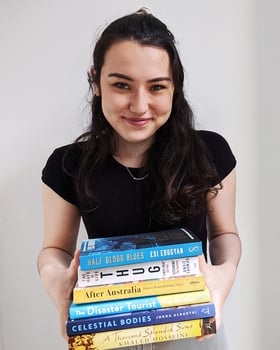 Has it been your goal during your studies to start a business or do you have other ambitions?
Marina: To be honest, starting a business was never something that interested me, but my studies and life experiences have led me to have a vested interest in the diversity issue in the publishing industry and Amplify was truly the best and most immediate way we could see to try to help combat the issue.
After I finish my studies, I do still hope to get a job in traditional publishing and use my skills there as well as continuing to fight for greater representation from inside the system.
Xuan: I never thought to start a business.
Amplify happened so quickly that it didn't occur to me that we had a small business until we got our first order.
I've always had an itch to do something about all the issues that we as POCs (and women) face, and Amplify was the opportunity I was looking for. We both would love to work in the industry once we graduate.
Are there any other online bookstores out there with a focus on BIPOC lit?
Marina: Yes but not in Australia.
There are a couple of bookstores in America, definitely, and Knights Of in the UK that focuses on diverse children's books.
How do you find new books by BIPOC authors to feature and sell?
Marina: We personally scour the monthly new release catalogues from publishers to find titles that are by BIPOC authors.
We also get in titles on request from customers and others in our communities, as well as the odd inquiry from a self-published author.
Xuan: We've also managed to build a robust community on both Instagram and TikTok who have a commitment towards reading widely.
They've been wonderful in suggesting titles they love that suit our store!
Being that BIPOC literature has been so difficult to find, have you seen a lot of business since starting Amplify?
Xuan: The support that we've received since we started has been incredible, and we're so grateful for their support.
Business has been slowly growing, as we gain our footing in both running the business and in the industry.
We were definitely really scared that no one would buy from us, but it turns out that people really vibe with our mission and have been sharing the news about our little store with their friends and family!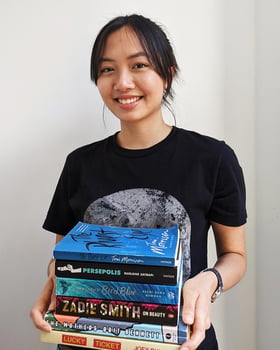 What does growth look like for Amplify Bookstore? What are your goals for the business?
Marina: Growth for us is increased recognition of our brand, an even more all-encompassing representation of BIPOC voices, and continuing to increase sales.
We want to keep growing so that it becomes more financially and practically feasible for us to be able to reach out to more small presses from around the world to amplify more of the world's lesser-heard voices.
Xuan: One of the biggest goals is to have a wide and varied selection for our customers so that everyone has a chance to find themselves in the books they read.
We're aware of the current gaps in our collection and we want to work towards filling those gaps. We also hope to have a physical bookstore sometime in the next 5 years or so.
What does sustainability mean to you? How does that play out in your business?
Marina: Sustainability means reducing our carbon impact and preserving the planet so that we don't have to face a climate apocalypse.
Delivery and packaging is an unavoidable part of our service as a store so we have considered sustainability in every aspect there including compostable, reusable mailers, reused &/or sustainably printed and sourced wrapping paper, using Sendle, and getting things printed with environmentally-friendly vegetable-based inks.
Xuan: Additionally, I believe that the responsibility is on both businesses and consumers to work towards sustainability.
Which is why we chose to use Sendle as our domestic courier, and aim to be as eco-friendly as possible in our packaging.
As consumers ourselves, we know how much of an effort it is to take the tape and stickers off boxes before recycling them and that not everyone has the time to, so we decided to make recycling and reusing our packaging as seamless as possible.
What are your top five favorite books right now?
Marina:
Xuan:
What are some of your very favorite small businesses out there?
Marina: Flora and Fauna is a great online store for anyone looking for anything really, from an environmentally minded perspective.
Locally, I'm a big fan of Kuu Cafe, a Japanese cafe in South Melbourne, and 1565 Gelateria in Kensington!
Xuan: I'm a big fan of Wild Life Bakery in Brunswick East, and our friend over at Bin Chicken Books is a wonderful initiative!
I really love The Dirt Company and we use Hero Packaging for our shop!
What is your favorite thing to listen to when working? Playlists, albums, audiobooks, complete silence?
Marina: I usually listen to music!
I get a bit distracted if I know the words though so it's usually just a Discover Weekly situation with new songs that I can just tune out in the background.
Xuan: On a slow workday, I like listening to audiobooks and podcasts to keep myself entertained.
Usually, though, I'm probably listening to the Feel Good Indie Rock playlist or throwback tunes from the early 2000s and 2010s.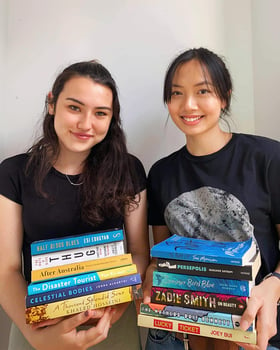 What advice would you give someone just starting their small business? Anything you wish you would or would not have done along the way?
Marina: It's more work than you might expect.
Be prepared to be working weekends and odd hours at night, BUT if you're doing something you're passionate about and feel is important (which I 100% feel about Amplify), it's worth the work.
Also, don't underestimate the hidden costs—even when you're selling a specific product, everything else that goes into maintaining the business (not even including packaging) is also going to be coming out of the bank account.
Xuan: Plan ahead!
Really plan out your finances, marketing plan, and goals. Expect long days, hard conversations and lots of emails, but if you're passionate about it, it will all be worth it.
And don't be afraid to reach out to others in the industry for advice and help! People are usually very open to helping out (if you ask nicely).
How did you find Sendle? How are you liking it?
Marina: I received a parcel via Sendle last year!
I didn't recognise the name, so I looked it up and discovered that it's carbon neutral and thought that was an incredible initiative.
Then when we started the store, it was a no-brainer for me that we would use the service too!
We love Sendle! It's fast, easy, and convenient! Our customers love how quickly their orders get delivered!