March 14, 2022
3 fashion B Corps keeping your old favorites out of landfill
by Christopher Bragg
The electronics industry pioneered the practice of refurbishing gently-used goods and returns as an environmentally-friendly way to deal with returns and exchanges. Now the fashion industry is following suit, though the concept is a little different. By creating their own marketplaces for gently used and refurbished items, they're joining and driving the circular economy and adding benefits for fans of their products.
Everyone knows fashion trends are circular, and almost everything that goes out of style comes back in at some point. Did you have bell bottoms in the '90s? Wish you had some parachute pants today? Ok, maybe not. But the good news is that a lot of B Corp brands make clothes and accessories that are built to last, and even buy back their old stock to sell again. It's a wonderful undertaking, considering the alternative; currently 85% of all textiles from the fashion industry end up in landfills or burned every year.

Secondhand means a second chance
New Zealand-based

Allbirds

just entered the "recommerce" arena in February 2022 with

Rerun

, their used sneaker marketplace. They've invited customers to bring their shoes for trade-in to locations in Los Angeles, California, Oak Brook, Illinois, and New York City and offer a $20 credit for shoes in very good condition to be used the same day in the store.

Customers should bring in any Allbirds they no longer need; the ones that aren't fit for Rerun will be donated or recycled on their behalf. There's no $20 credit in this case, but the reassurance that their old favorite shoes won't end up in a landfill is still a great benefit.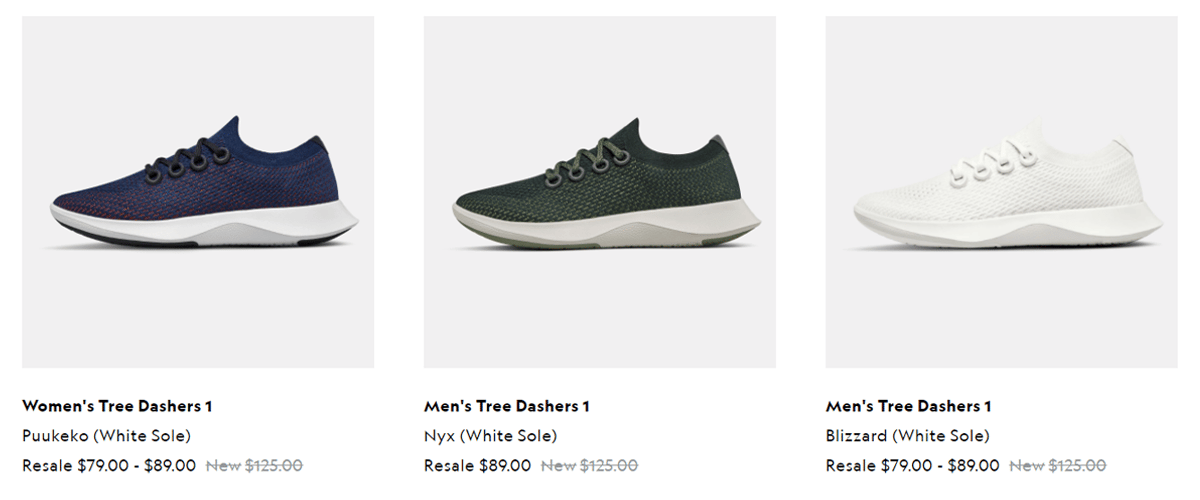 A small sample of the variety and savings found in the Allbirds Rerun shop.
Rerun already has hundreds of pairs of shoes in stock, with a search function and filters that make it easy to find specific ones. This means Allbirds fans who didn't snag a limited edition shoe they really wanted have a centralized spot to hopefully find it. They may still love to hunt in vintage boutiques and thrift stores, but the odds they'll find what they're looking for on Rerun are much better.
Allbirds achieved B Corp certification in February 2016. Learn more about their sustainability efforts.
Removing barriers to fun with affordable gear
Taking up a new sport or pastime is already intimidating, and the costs associated with gearing up can be a huge obstacle. So if you're not quite sure if hiking or fishing are going to be your new faves, why not gear up on the cheap? Patagonia encourages their customers to care for and repair their gear, and accepts it for credit via the Worn Wear program at any of their locations or by mail.
A quick video guide to Worn Wear.
You can even begin the Worn Wear trade-in process online and ship with a prepaid label they provide. Just be aware that not all items traded in will earn store credit, and they don't return items. Meanwhile, you can relax at home and avoid the temptation to splurge on all the great gear you'd see if you went to the store.
Patagonia was the first corporation in California to apply for B Corp certification back in January 2012. Learn more about their climate goals.
Enduring fashion designed to last
By now you've heard about the major shortcoming of fast fashion: the clothes are cheaply made and wear out rapidly. It's not a sustainable business model and the low prices are often made possible by questionable and even unethical practices. What doesn't get talked about as much is that the designs themselves don't endure. By chasing after blink-and-miss-it fashion trends, designers create clothes that go out of style almost as soon as they can be washed the first time.
Eileen Fisher creates high-quality garments meant to last for years and look amazing the whole time. They have a lofty goal of 100% sustainable production by 2030 and say 79% of their line in 2021 was produced sustainably. But they've already been champions of the circular economy since 2009 with their buyback initiative, Eileen Fisher Renew.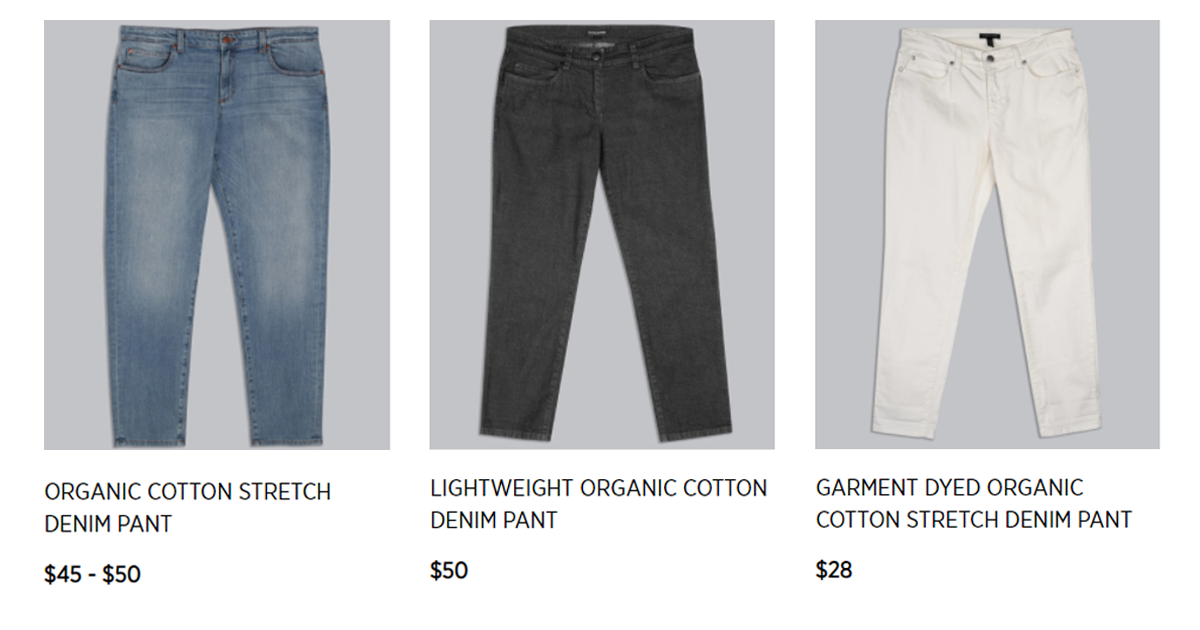 Some of the gently-used denim available on Eileen Fisher Renew
Formerly known as Green Eileen, Eileen Fisher Renew accepts used Eileen Fisher garments in any condition, and pays $5 for every item, no matter the condition. Customers can bring clothes to any Eileen Fisher location and can shop for Renew items online and at many retail locations. The coolest part? Items that can't be resold are used to create new one-of-a-kind designs. This prolific recommerce operation has already bought back over 1.5 million items.
Eileen Fisher is one of the largest women's fashion companies to achieve B Corp certification, which they achieved in 2015. Learn how they make circularity their standard practice.
Want to find more brands who embrace the circular economy?
While Eileen Fisher Renew has been around longer, they along with Patagonia and Allbirds have partnered with circular economy specialists Trove for help launching their circular shopping marketplaces. Trove was founded in 2012 by Andy Ruben, Walmart's first chief sustainability officer who also led the company's eCommerce strategy. You can find more businesses on their partner page, which is likely to expand soon as they've earmarked their Series D funding for expanding partnerships.
For help launching recommerce programs in Australia, check out Ownershift. Founder Amelia Crook created the company to help people buy secondhand items from their favorite brands as easily as new ones. If the name's familiar, you may have come her stylish and very popular TikTok.