September 26, 2022
2022 rate update (AU): a little up, a little down on 17 October
by Sendle Team
Sendle is loved by small businesses across Australia, the US and Canada (yep, we're there too, now!). Why? We back your small business by making shipping discounts usually only available at enterprise level, to everyone. We take the hassle out of shipping by delivering door-to-door, we never charge a subscription or hit you with hidden fees, and every delivery is 100% carbon neutral, every time.

A lot's happened in the 13 months since we dropped rates by up to 30% with our Pandemic Relief Package. In fact, we never went back to pre-pando pricing. And we continued developing great new features – like Australia's first 250g, tracked parcel and Sendle Express – to help your business grow.
But (there's always a but), we all know change is inevitable. So too is the need to update rates.
So, on 17 October, rates will go a little up, a little down. Sending domestically? You'll see about a 3.6% increase on average, but many of our rates are actually decreasing. When it comes to international, some of your shipping is about to get way more affordable (particularly if you're sending to Kiwis, Brits and most of the participants of the Eurovision song contest).
The good news
We'll stay

a whole lot cheaper than Parcel Post, with rates from $4.07 to ship within Australia (ex GST and fuel surcharge).


International shipping to NZ, Europe and the UK is looking pretty fly! Send a pack of Tim Tams (up to 250g) to New Zealand for less than $10 – sweet as. And, save $3.35 when your hand-knitted jumper, up to 2kg, makes its way to Europe or the UK. Not bad, eh?


Hey big Sendler, we've introduced a new 20kg/80L size to give you more choices when shipping big or bulky items.


We've reduced remote surcharges. You'll save at least a buck (in some cases two) when you send a DVD to Kerrabee, a fountain pen to Scrubby Mountain, or that thing that cooks toast to Sugarloaf.



Sendle Express

will be cheaper than Express Post, guaranteed! That's right, we've extended our Price Guarantee to include Sendle Express. We'll be up to 38% cheaper than Express Post on 1kg, 3kg and 5kg parcels, with savings of up to $1. An SMS 2 hours before we arrive and another on approach so you know we've got your parcels? We'd call that quick, but far from dirty.


And...drum roll, please...from 17 October, if you're a Premium Sendler, you can start using 250g Sendle Pouch by selecting dropoff, and starting at only $4.96 (inc GST). Think of all the small (or big and light) things you'll ship with this little beauty.
Get your updated rates
New rates, same amazing service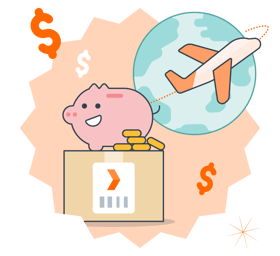 Some things never change. Like our commitment to supporting your small business with free pickup (who wants to schlepp to the post office?), tracking and included insurance, for when things occasionally go pear shaped.
We'll never charge you a subscription. Your plan level is dictated by the number of parcels you ship with us each month. And we abhor sneaky fees and hidden charges, so you won't get those with us, you'll simply pay for what you send.
If you like a points bonus don't forget to link your Velocity Frequent Flyer card to your Sendle account via the Rewards tab in the dashboard. Every parcel you send flying off to a customer could get you one step closer to shooting off on holidays.
And, if it's time to up your shipping game, take advantage of one of our amazing eCommerce integrations. If you're already shipping with eBay, Shopify, WooCommerce, Etsy, Squarespace or a whole host of other platforms, we've probably got the one you need.
Christmas / peak surcharge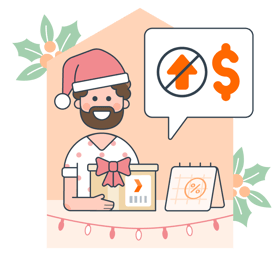 If you're already thinking about Christmas and peak season, you'll be pleased to know that, like last year, we won't be passing on additional peak surcharges. (We'll be gobbling them up and wearing them like little bits of gingerbread house and icing all over our chests.) That's gotta make you feel at least a little bit merry.
Time for an upgrade?
Congratulations, you made it to the end of the blog! While we've got your attention, why not see if you qualify for better rates? If you're approaching 20 parcels per month request a premium upgrade. Or, if it's really getting serious and you're in the zone of 200 or even 1000+ parcel sends per month, why not book a shipping consultation? A few minutes on the phone could save you heaps.