March 4, 2022
Seller-friendly shopping frenzy: get in on the next Afterpay Day
by Christopher Bragg
Black Friday's gained popularity as a shopping event since the '80s, with Cyber Monday riding its coattails in the eCommerce age. If you're looking for new opportunities at other times of the year, why not join Afterpay Day? It's a new shopping event built around retailers rather than consumers.
With its first event in 2015, Afterpay sought to give retailers a boost in an otherwise-quiet time of year. Most eCommerce retailers do a huge portion of their business during the holidays, only to find it a lot harder to get people excited to shop the rest of the year. It's a winning strategy. After all, without a Christmas shopping list to work through or the associated bills to pay off, consumers can take advantage of deals and shop for themselves.
Shifting the focus away from gift giving means better opportunities for more kinds of businesses. One doesn't associate items like furniture or activewear with Valentine's Day, so Afterpay Day is a great time for those businesses to get in front of people who are ready to freshen up their homes and workouts.
Wondering if Afterpay Day is right for your small business? Afterpay surveyed 943 Afterpay shoppers in January 2022 and a third said they will purchase from smaller shops and local businesses. Since 60% of them said they plan to splurge, you definitely want to court them. Here are some more great insights from the survey:
Online shopping rules the day: While half of shoppers would like to visit stores in person this year, 73% of all previous Afterpay Day customers shopped exclusively online.
Help people dress, for success: Clothes, accessories, and jewelry are the most anticipated deals this Afterpay Day. Turns out everyone who didn't get the new wardrobe they wanted for Christmas plans to grab it for themselves in March.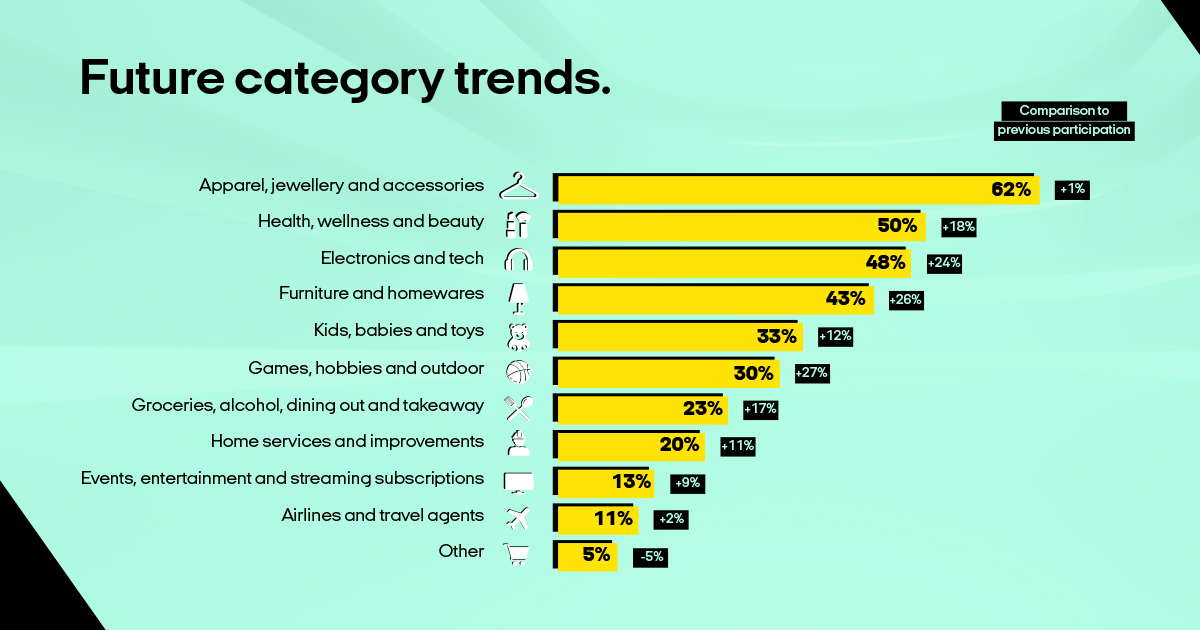 Categories ranked by popularity (Source: Afterpay Day Unlocked)
New customers, new opportunities: More than two thirds of shoppers said they want to discover new retailers this Afterpay Day. That means it's a great time to expand your customer base with an enticing deal. Even if you aren't already an Afterpay Merchant, there's plenty of time to get set up for this incredible event. So why wait?
3 steps to Afterpay Day success

1. Become an Afterpay merchant
If you don't offer Afterpay, sign up today. Afterpay Day is but one of many reasons you and your customers will love it. The biggest advantage? They can make the first of four payments and pay the rest over six weeks, but you get paid immediately. It's like an instant gratification layaway program for the modern age.
2. Register an offer
Don't waste this opportunity the way a lot of retailers do on Black Friday and Cyber Monday. It's not the time to do a clearance sale. Instead, submit an offer by 8th of March (in Australia), and the 10th of Mar (in the US) that showcases your favorite products you'd like to sell a lot of, and set a sale price that assumes you will.
3. Promote your offer
Afterpay has a lot of great tips to help you get your customers excited about the event, as well as assets to use online and even in retail stores and shopping centers. It's an online event first and foremost, but there's no sense in excluding your physical store if you have one.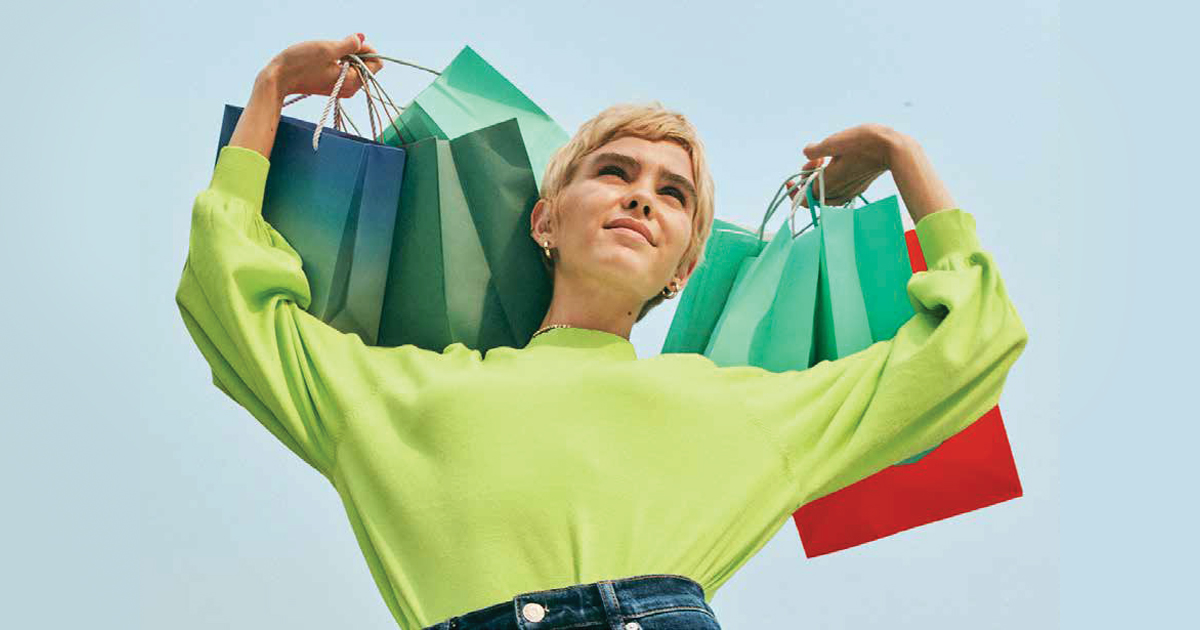 Photo courtesy: Afterpay
Afterpay Day is a dream event for shoppers and retailers alike. Culture Kings reported a 46% increase in revenue the week following the last Afterpay Day, where they offered an exclusive product their customers couldn't get any other time, which was also promoted in Afterpay's augmented reality shopping experience, Invisible Drop.
Don't miss out! Afterpay Day is quickly gaining popularity because it's a great time to promote to your existing customer base and be introduced to new customers at the same time. And while you're at it, check out all the great deals and buy yourself something nice.