March 14, 2021
2021 pricing (AU): New domestic rates and international discounts
by Sendle Team
We're proud to be Australia's top-rated parcel delivery service. From desert to coast, the whole reason we exist is to help our small business community thrive by providing a plain sailing shipping experience for you.
During the Christmas rush, we decided to hold our rates to help you through the busy season. And it was quite the busy one.
Now, we're holding your rates just a little longer. But on April 7th, we'll be updating our pricing to keep up with all the little costs of running our business and improving our services for you.
We will continue to have the best rates out there so don't worry!
While some rates are going up, others are going down. Domestic rates will start at $4.98 (ex GST) and our small size remote rates will be coming down. And you'll see deeply discounted international pricing on top of that.
As always, you can count on our Price Guarantee that makes us the most affordable delivery service out there.
Domestic rates
Starting on April 7th, your updated pricing will go live—a little up, a little down.
You can dig into all the pricing changes below but here are some of the highlights: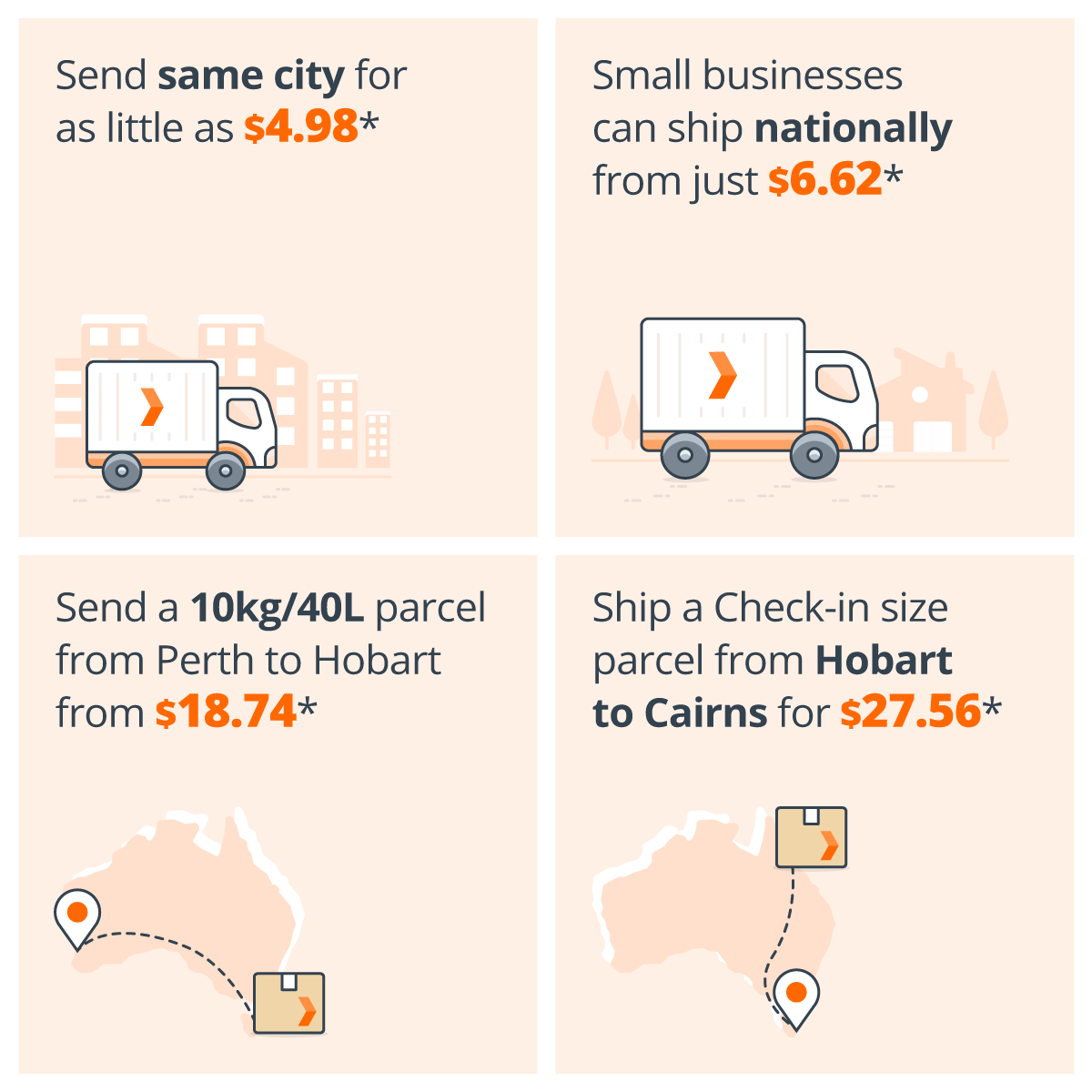 Send same city for as little as $4.98*
Small businesses can ship nationally from just $6.62*
Send a 10kg/40L parcel from Perth to Hobart from $18.74*
Ship a Check-in size parcel from Hobart to Cairns from $27.56* (that's 79% less than Standard Parcel Post)
* Prices for Sendle Pro plan, ex GST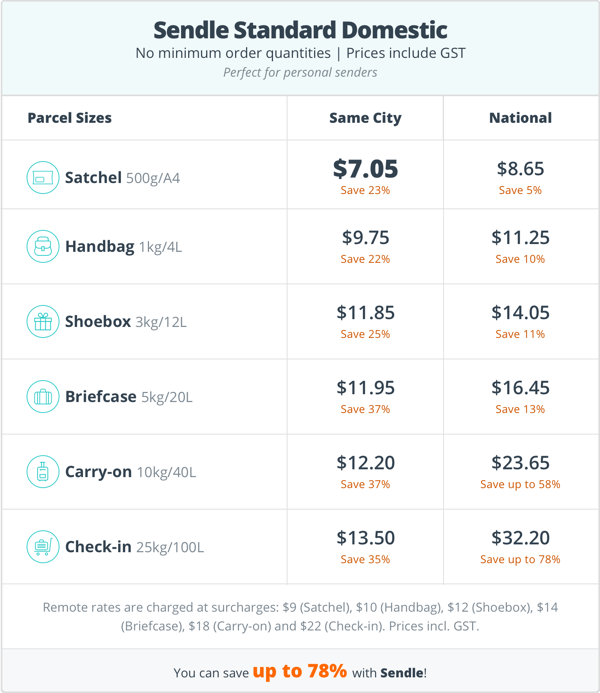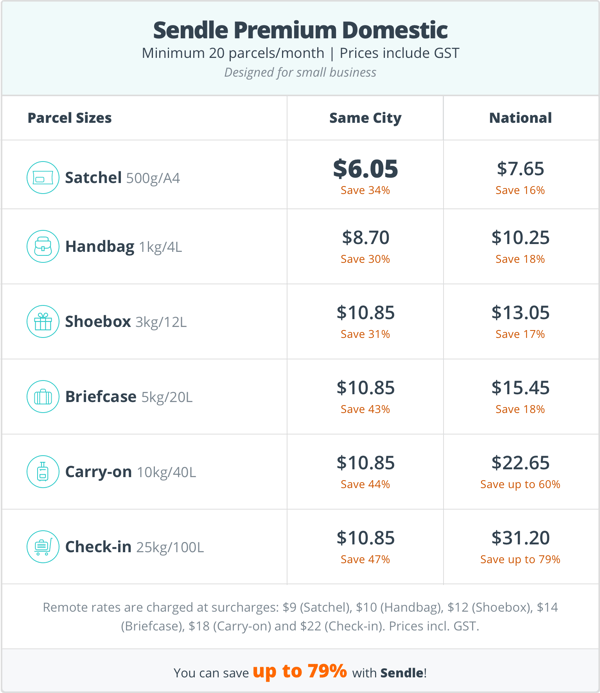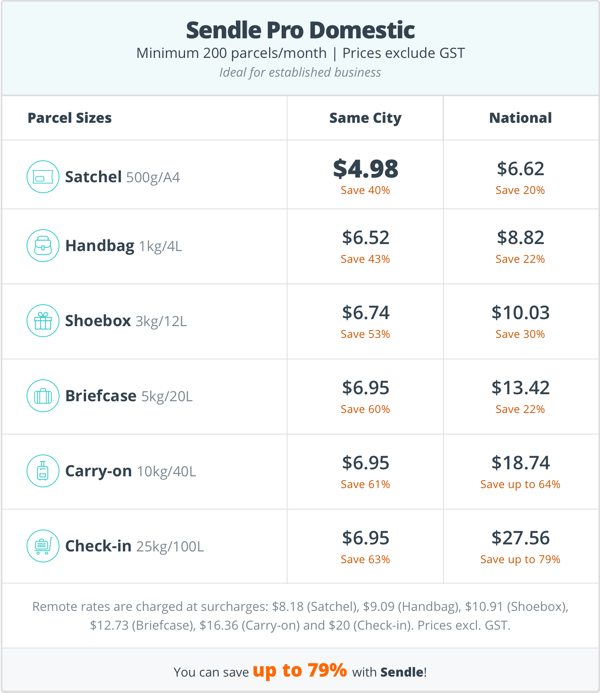 Sendle Price Guarantee
We're committed to helping small businesses thrive by offering a simple, reliable, affordable delivery service.
With Sendle's Price Guarantee, we're Cheaper than Parcel Post.
We guarantee you can send your 500g, 1kg/4L, 3kg/12L, 5kg/20L, 10kg and 25kg parcels in Sendle's same-city and national zones for less than standard Parcel Post rates.
Domestic remote rates
Remote sending just got cheaper.
Historically, less than 6% of our deliveries go to remote areas, but during COVID we've noticed many small businesses using Sendle to deliver parcels to and from regional areas. Dalby (QLD), Mullumbimby (NSW), Nabour (QLD), Southport (QLD), and Yamba (NSW)—to name just a few.
In light of that, we've dropped our remote rates for the most popular weight breaks—the Satchel, the Handbag, and the Shoebox. Nice, right?
Remote rates are down by up to 19% for parcels

≤

3kg
Satchels to towns like Exmouth (WA) or Humpty Doo (NT) cost $4 less
Send a 25kg/100L parcel from Sydney all the way to Uluru for just $54.20
International rates
The inability to travel over the last year has meant our homegrown Aussie-made products have gotten even more popular internationally. Your goodies have been flying off the shelves and all around the world.
So, as your overseas customer base grows, you'll be pleased to know we've slashed a number of our international rates. Woo hoo!

And to help you get the most competitive international pricing on every lane, we've expanded our zones to include the USA/Canada, Western Europe and Asia along with New Zealand and the rest of world.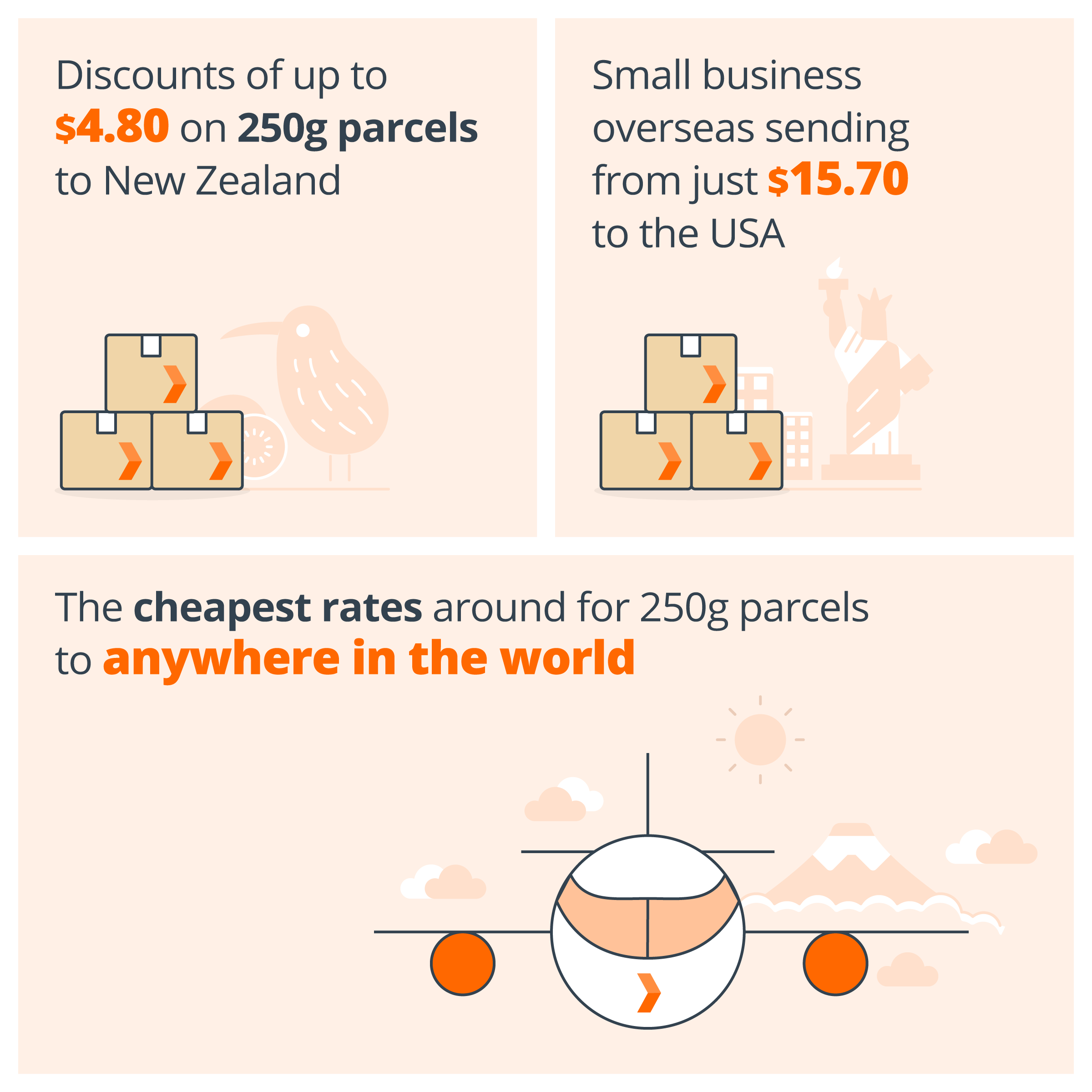 Discounts of up to $4.80 on 250g parcels to New Zealand
Small business overseas sending from just $15.70 to the USA
The cheapest rates around for 250g parcels to anywhere in the world

Note: All COVID related international surcharges have been removed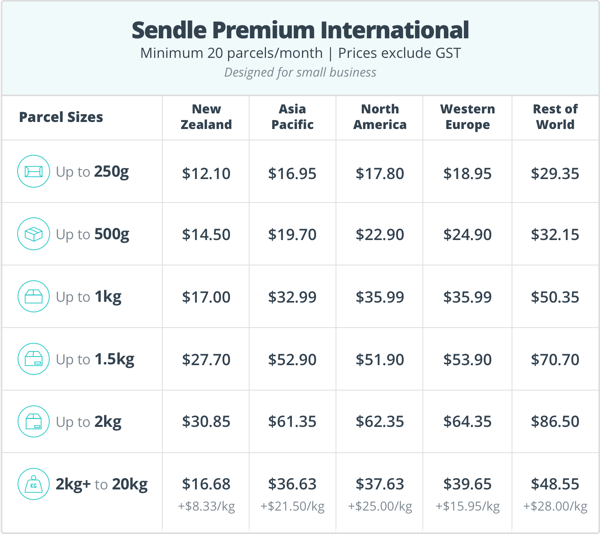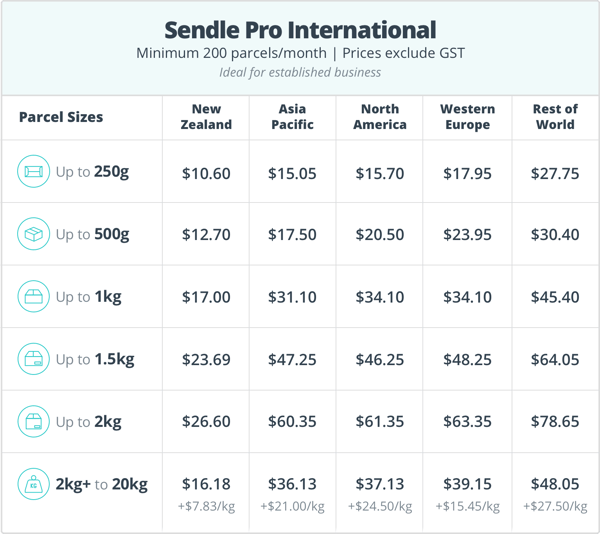 Happy Sendling!