March 8, 2017
Sweet rewards for hard work: Melbourne City Rooftop Honey
by Imogen Baxter

Building a small business is bloody hard work. Building a sustainable business with a social purpose may be even harder still...

Meet Vanessa Kwiatkowski, co-founder of Melbourne City Rooftop Honey. They utilise rooftops and vacant urban spaces to house beehives. Forget your recurring Wicker Man nightmares ‒ they're helping the environment and serving up some sweet, sweet honey while they do it. Together with her husband, Mat Lumalasi, they're bringing the buzz back to Melbourne.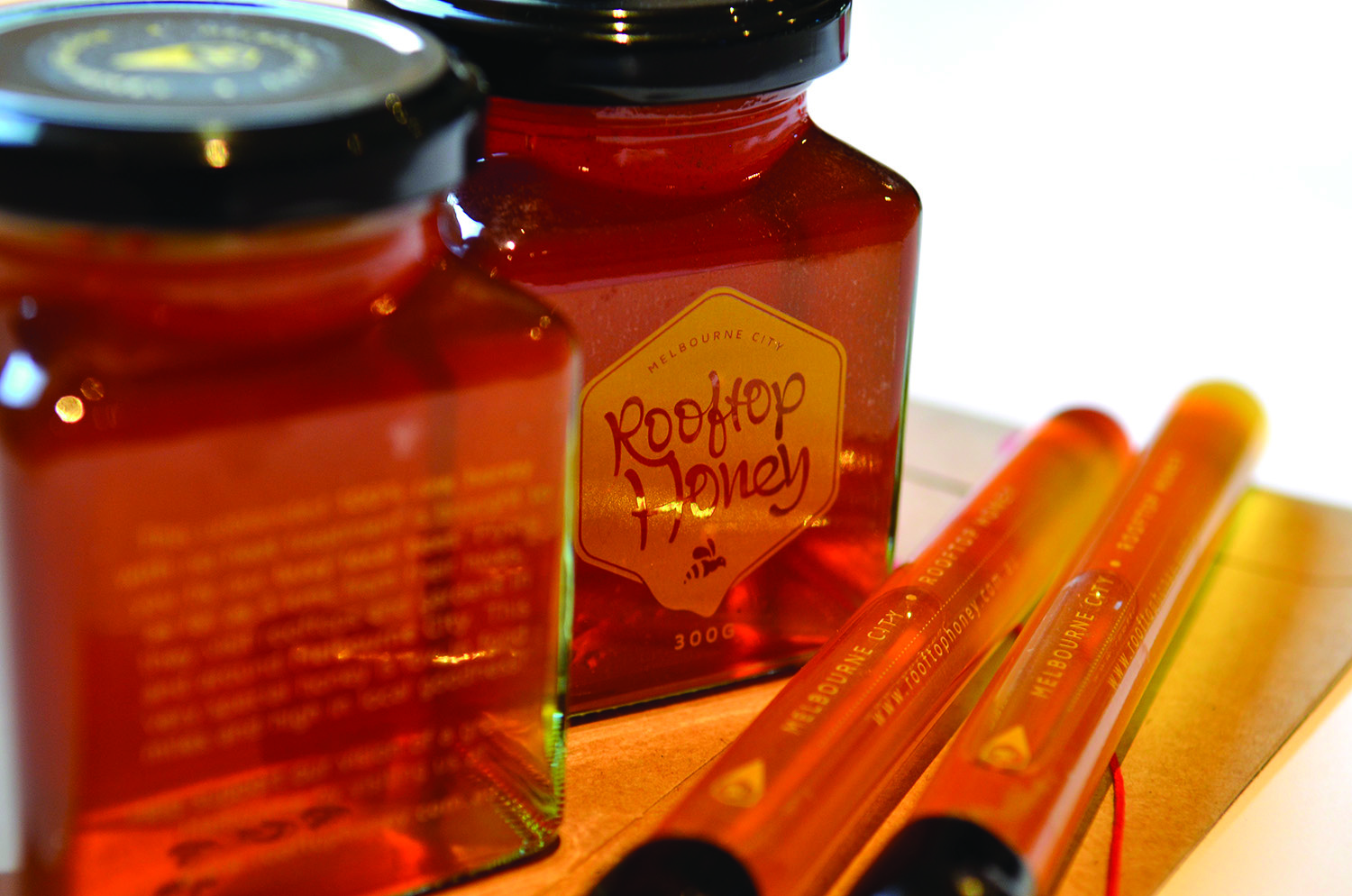 How did Melbourne City Rooftop Honey get started?
In 2010, it became an extension of the backyard beekeeping we were already doing. Basically, we had our own bees and saw an opportunity to utilise rooftops. It's a way of connecting people to local produce, providing education about bees and understanding the important role they play in our ecosystem, even in built-up areas.
On first glance, bringing bees into urban spaces might not seem like a public service...
At first, it was odd to see a couple of people in bee suits around the city. People thought we were pest control. Since then, people have really embraced local food produce and they're interested in what we're doing.

We talk to school groups. Recently we spoke to RMIT Greening students who were interested in sustainability and improving the city. We talk to all kinds of groups. We even have bees at the aquarium.
Do I need a crash course in bee whispering to be a host?
Not at all. Having the hives up on the roof means their flight path is over our heads, so direct contact isn't an issue. We do educate hosts on how to act if bees are in their personal space, but they're not really interested in humans, just flowers.

A fully-functioning hive has up to 50,000 bees in summer.
Sorry, what?!
Don't worry, you're not going to see 50,000 bees flying around. Some people mention seeing a lot of dead bees, but they only live about 6-8 weeks. The queen can lay a few thousand babies a day. Turnover is high.
As well as the ecological benefits, you create products as well.
Yep, obviously honey, as well as beeswax products like candles. We collect the excess honey ‒ because it's essentially the bees' honey for winter ‒ we don't over rob the hives.

We collaborate with local food producers too. We have honey-chocolate collaborations with different suppliers like WaWa Chocolatier and Mörk Chocolate. We also sell bee-friendly seeds and encourage people to plant more.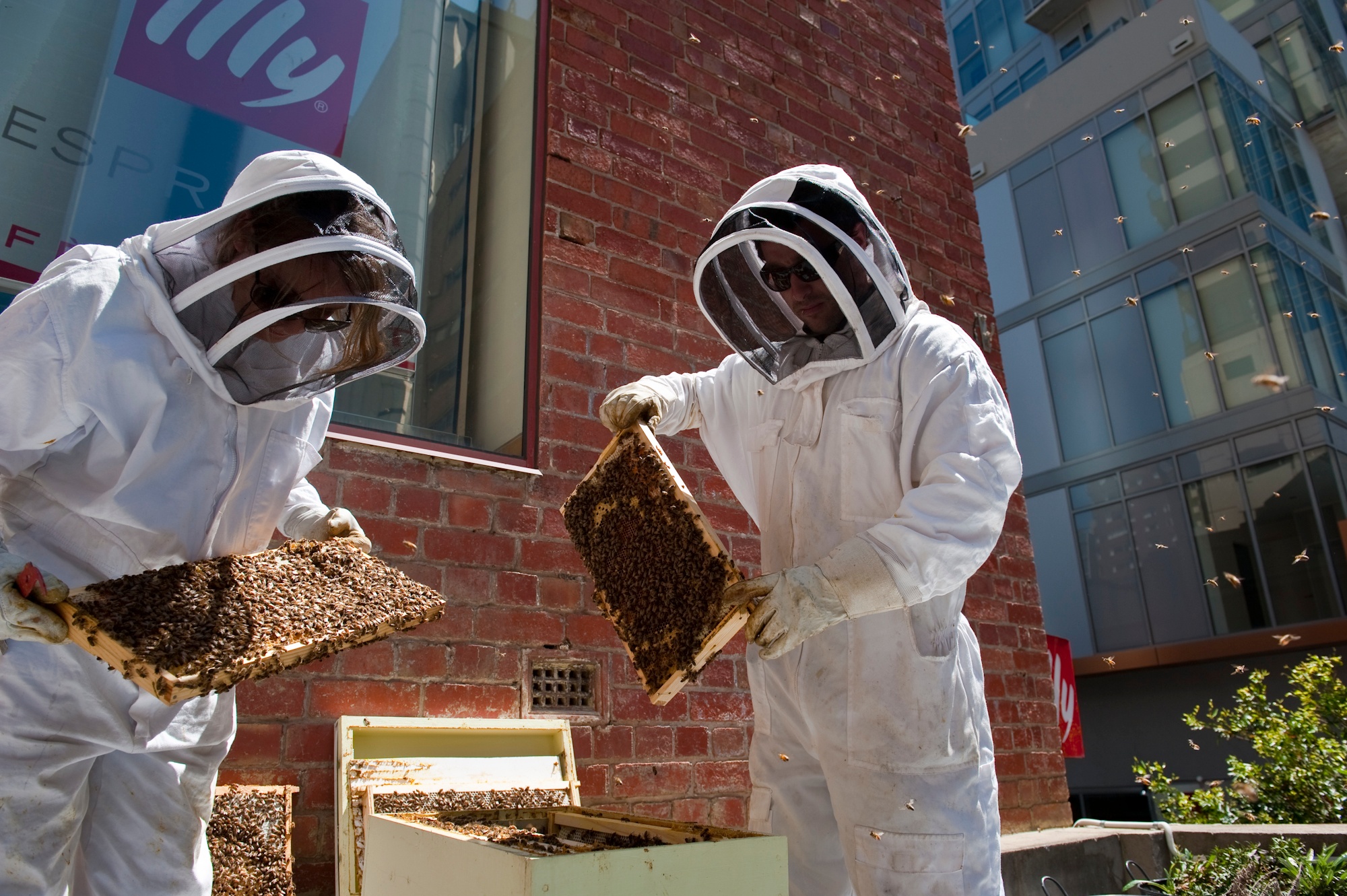 What are your biggest challenges?
Day-to-day running of the business. My husband and I manage all of it, so we don't have an army of staff. Trying to run things efficiently while freeing up time to work on new projects is tough. There's a lot of admin that you don't want to pay much attention to.

We've got a situation where our demand exceeds our supply. I suppose that's a good problem, but it's still a problem.
Where does Sendle come in?
As a small business, we don't send huge volumes of parcels, so we don't qualify for bulk rates from larger capped services. Sendle gives us a better fixed rate for parcel collection and delivery.

Being a courier service, you get quick turnaround. What I like about Sendle is being able to use an online platform where I can basically do it as a user. I don't have to worry about putting in credit card details every time. I don't have to go to a post office either.

From my experience, they provide good customer service. In terms of queries and tracking items, they're prompt and efficient. They've always got people online, and they talk directly to couriers for us.
As you've grown you've also upgraded your logistics management software too. Which service best suits you?
The ReadyToShip service we've been using when we get large order volumes has been working quite well. It's much more efficient to be able to update our shop without having to do manual entries by order.

You can do a large batch and it all comes through. Labels and everything get printed, pick lists and so on. Different from using the straight Sendle service where I go in and enter each order to be picked up. ReadyToShip was a game-changer for the festive season in particular.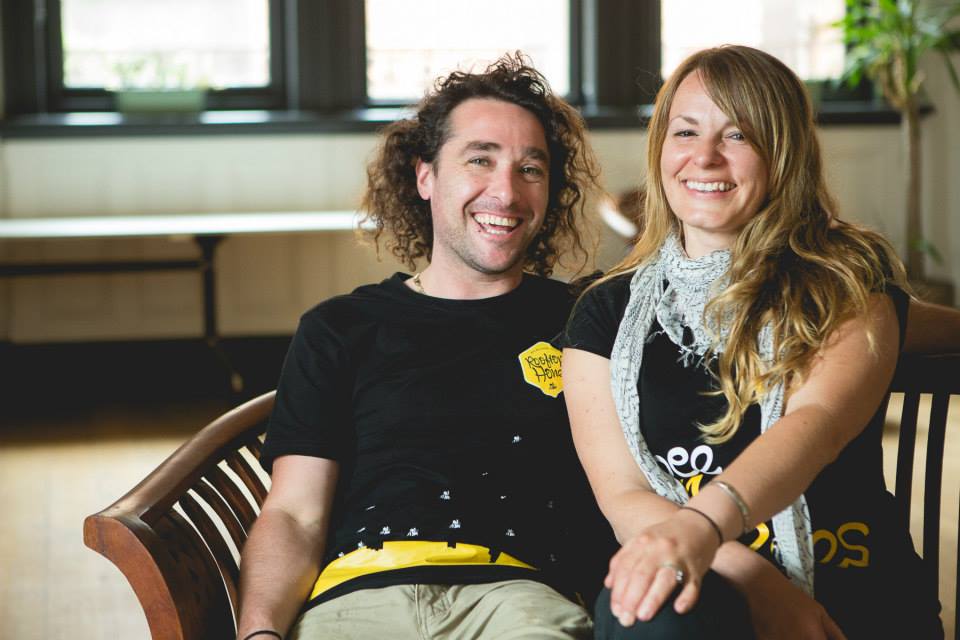 What kind of value are you getting?
If I send a parcel through Australia Post, it's going to cost $8.50 minimum. With Sendle I send the same parcel for $6.95. Over Christmas alone I sent about 500 parcels.

Even on the standard service, Australia Post costs at least $10 compared to $8 with Sendle. So we're saving a good few thousand dollars over the course of a year.
How can new hosts get involved?
There are two options. We have a free waiting list. We started out doing it for free because we thought it would just be a hobby. Now we have a waiting list of a few hundred people who offer up space.

We do have sponsors as well, mainly businesses who pay an annual maintenance fee. Either way, the model works the same. Each host gets a share of honey from the hives ‒ and a big tick for environmental friendliness.
What's coming up for you in 2017?
There's always new stuff coming. We're concentrating on education and there's been lots of keen interest in beekeeping, which is wonderful. We'll be running new workshops this upcoming spring.

To learn more about the Rooftop Honey project, indulge your sweet tooth, or get involved as a host, drop a line to Vanessa and Mat.
Save with ReadyToShip and Sendle
Sign up to ReadyToShip with a three-month free trial and enjoy 12 months of free Sendle Premium! View the offer.

Happy Sendling!
The Sendle Team
Images courtesy Vanessa and Mat, Melbourne Rooftop Honey