August 26, 2021
Sendle Swift, new zones and better rates
by Sendle Team
At Sendle, everything we do is in the name of small business. You work hard every single day bringing your vision to life, and we're here to back you every step of the way.

Editor's note: From March 21, 2022 Sendle Swift is changing. We're introducing a really affordable and speedy pick up service starting at $3.35 that all Pro Sendlers can access (not just those in the Western states).
If you're a current Swift user, or have been jiggling in your seat waiting for your state to be added to the map, hang tight! Your account manager will be in touch (but feel free to reach out) to discuss how we can continue to help your business get the very best rates available.
---
And now, as we get closer to peak season, your most critical time of year, we're making some changes to our pricing and zones to bring you even better rates where you ship. So you can head into peak holiday season with the confidence and peace of mind that you've got shipping covered.
Introducing Sendle Swift
We're excited to announce Sendle Swift, a new program that gives businesses access to faster, even more affordable shipping across key zones.
To access the program you need to be on the Sendle Pro plan. From there, any shipments made across the Western US between Washington, Oregon, Idaho, California, Nevada, Utah and Arizona are Sendle Swift eligible.
Sendle Swift packages ship in 2 days or less, and for as little as $3.40 across the entire zone! In other words, you can ship something a mile down the street or almost 1,000 miles from Portland to San Diego for the same great rate.
Ship a 10 pound box of vintage Levi's from San Francisco to Las Vegas for $8.71. And ship 20 lbs of coffee beans from Seattle to LA for $9. That's a savings of $9.99!
Small businesses can ship for as low as $3.40
Save $10 when sending 20 lbs from Seattle to LA
2 day delivery for 95% of packages
Free package pickups from your door
Here are your Sendle Swift rates!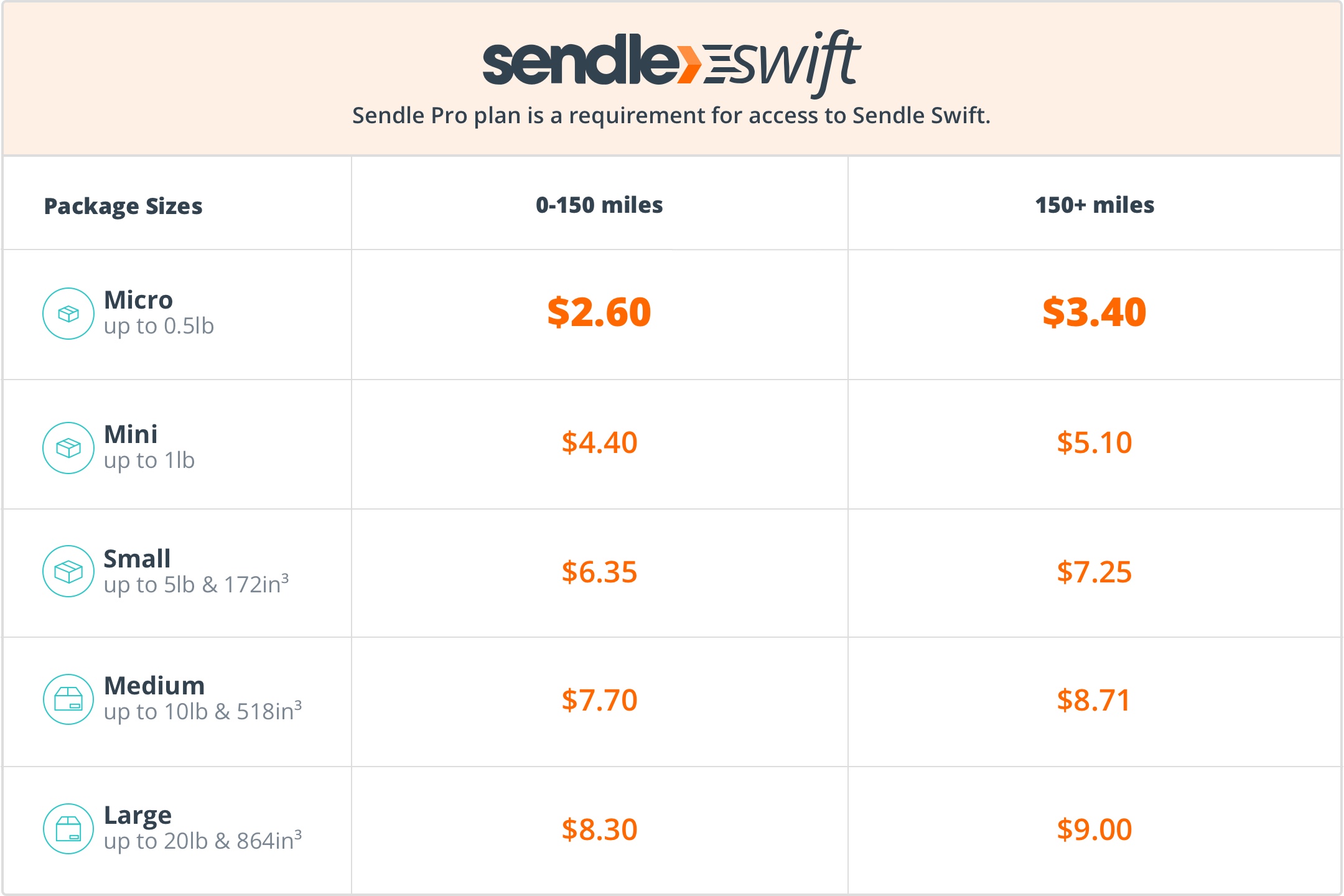 As always, you'll also get 100% carbon neutral shipping on every package, there are no monthly subscriptions, and you'll get access to Sendle's powerful tracking tools, bulk shipping features, and world-class customer service.
The Sendle Swift program will be available starting September 1, 2021 to businesses shipping across the Western US. New zones and new savings will be added in the future, so watch this space!
New zones and better value in every lane
We've added two new zones for Sendle Pro, bringing businesses shipping 200 packages a month better value everywhere you ship. You'll now see a Regional zone for shipments traveling between 150-400 miles, and Regional Plus for those traveling 401-600 miles.
Ship from Denver to Salt Lake City for as low as $3.48.
Ship 10 bottles of Louisiana hot sauce (10 lbs) from New Orleans to Houston for $8.95. That's a savings of $3.39!
A 20 lb box of "I Love NY" snow globes ships from New York to Pittsburgh from just $9.57. That's a savings of $9.42 on every box!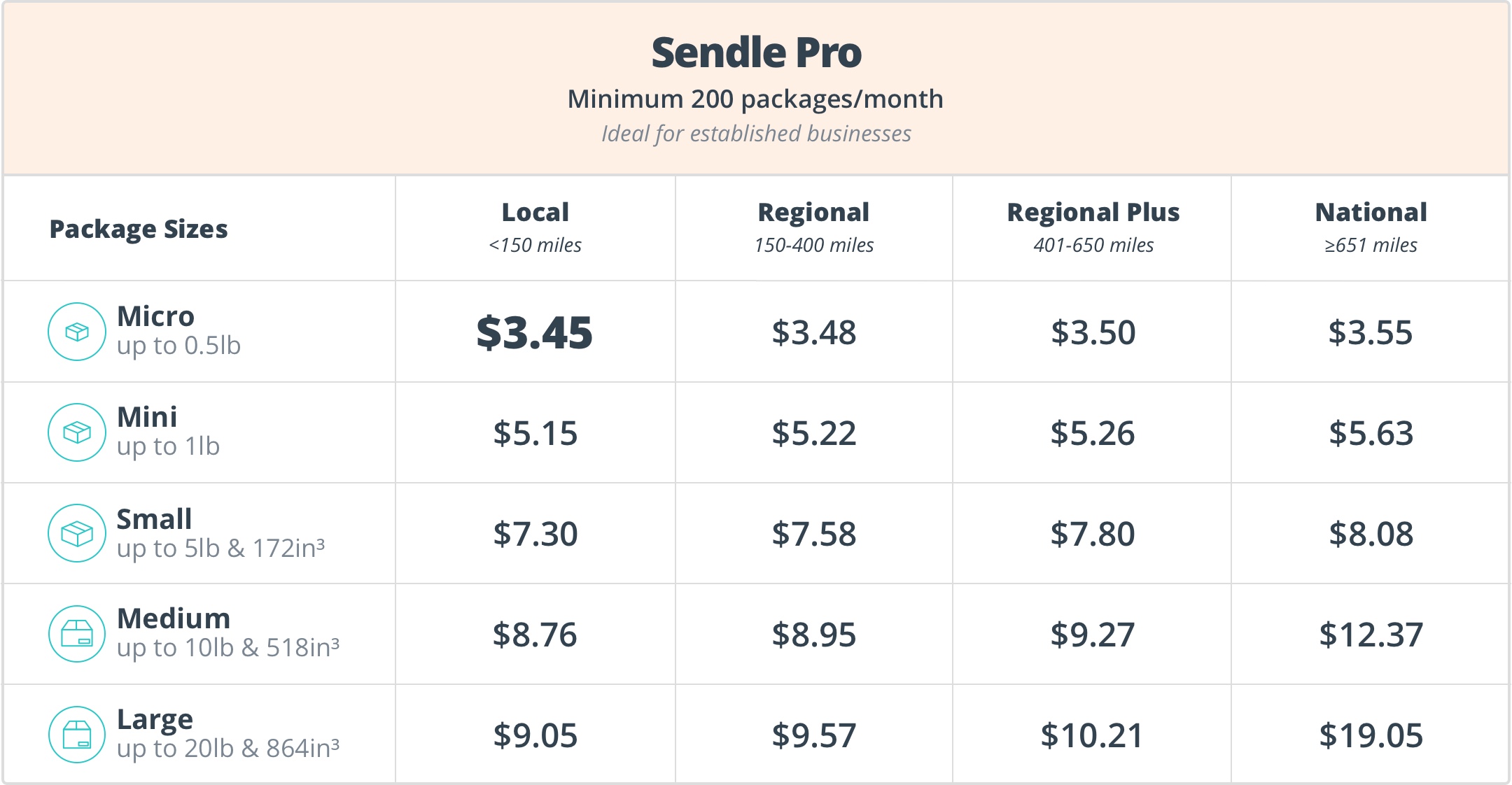 We've also extended access to great Regional zone rates to Sendle Premium customers.
Now you can ship a 10 lb box of eco-friendly yoga gear from LA to San Francisco for $9.05. That saves you $3.39!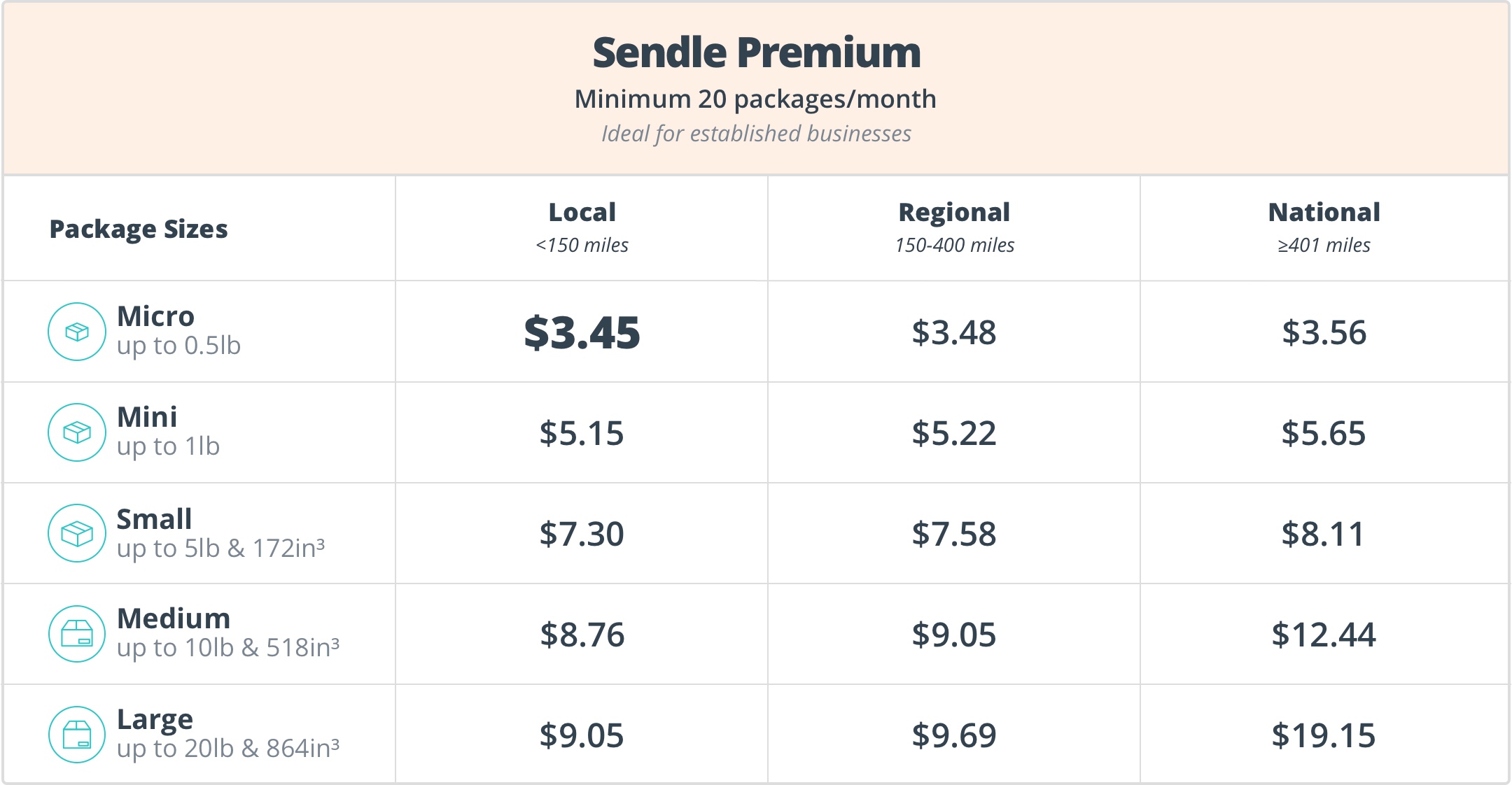 Our new zones and new rates are available starting September 1, 2021.
As always, our Sendle Price Guarantee means you can take advantage of great rates across the US and ship your packages for up to 88% less than the retail rates of other carriers.
And thanks to No Surcharges: Sendle's Peak Season Pain Relief, you know that the rates you see are the rates you'll get. All through peak.