November 12, 2020
We're holding domestic rates and expanding the Australian network this Christmas
This year's Christmas shopping season is kicking off early and we want to help our Australian small business community get prepared.
With COVID still lingering, nearly half of Aussie consumers plan to shop online and have their Xmas gifts wrapped and ready to ship to loved ones earlier than usual.
November is the new December with Singles' Day, Click Frenzy, Black Friday, and Cyber Monday coming up.
We're expecting record parcel volumes for peak season. In fact, we're forecasting this Christmas will be 2.5 times bigger than last year!
With the shift to eCommerce, reliable shipping and tracking information has become the way to differentiate your brand.
And with hectic schedules, small businesses need all the help and support they can get so we're holding our domestic rates and expanding our delivery network. Woohoo!
With November the new December, Aussie consumers have already started Christmas shopping so make sure you announce your domestic shipping cut-off dates loud and clear on your website, social channels, and via email. You'll see here, we've been extra cautious with our Sendle cutoff dates: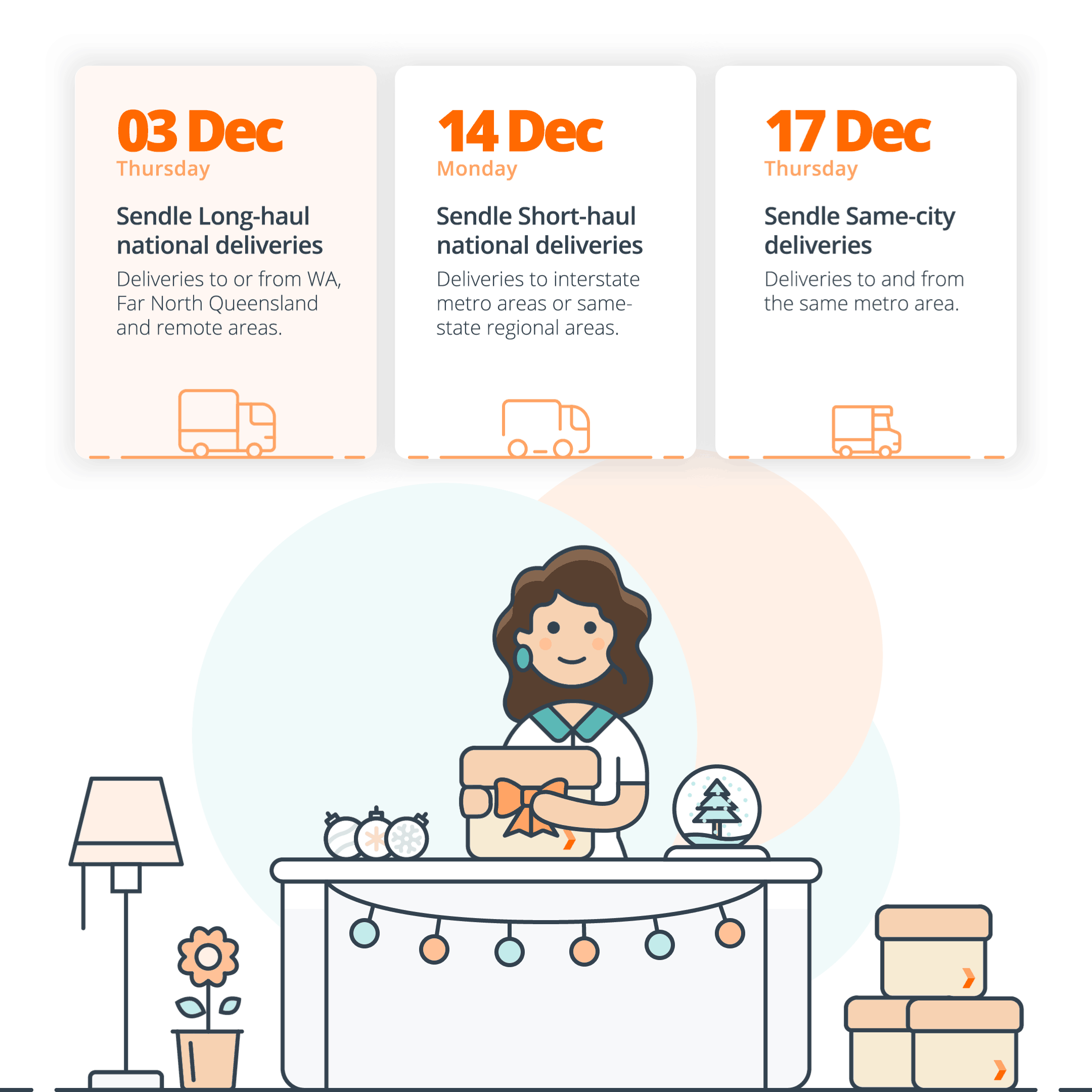 Have price certainty this peak
We know small businesses have had a rough year with isolating lockdowns and a hard-hitting economic recession. The last thing we'd want to do is cause complexity or additional costs ahead of this unpredictable 2020 festive season.
This busy peak you can send parcels door to door for our usual low flat-rates around Australia starting from $4.95 (excluding GST). Some of our rates are up to 70 percent cheaper than Australia Post.
Plus, our pick up service—which saves you from standing in line—is free.
Our mission is 'Shipping that's good for the world.'
That means we take care of the little guys, those entrepreneurial makers and creators who are hard at it every day, often from the crack of dawn until after the sun's gone down.
In the spirit of being simple, reliable, and affordable, Sendle's rates won't go up this peak season.
The price you see is the price you'll get. That's our promise to you.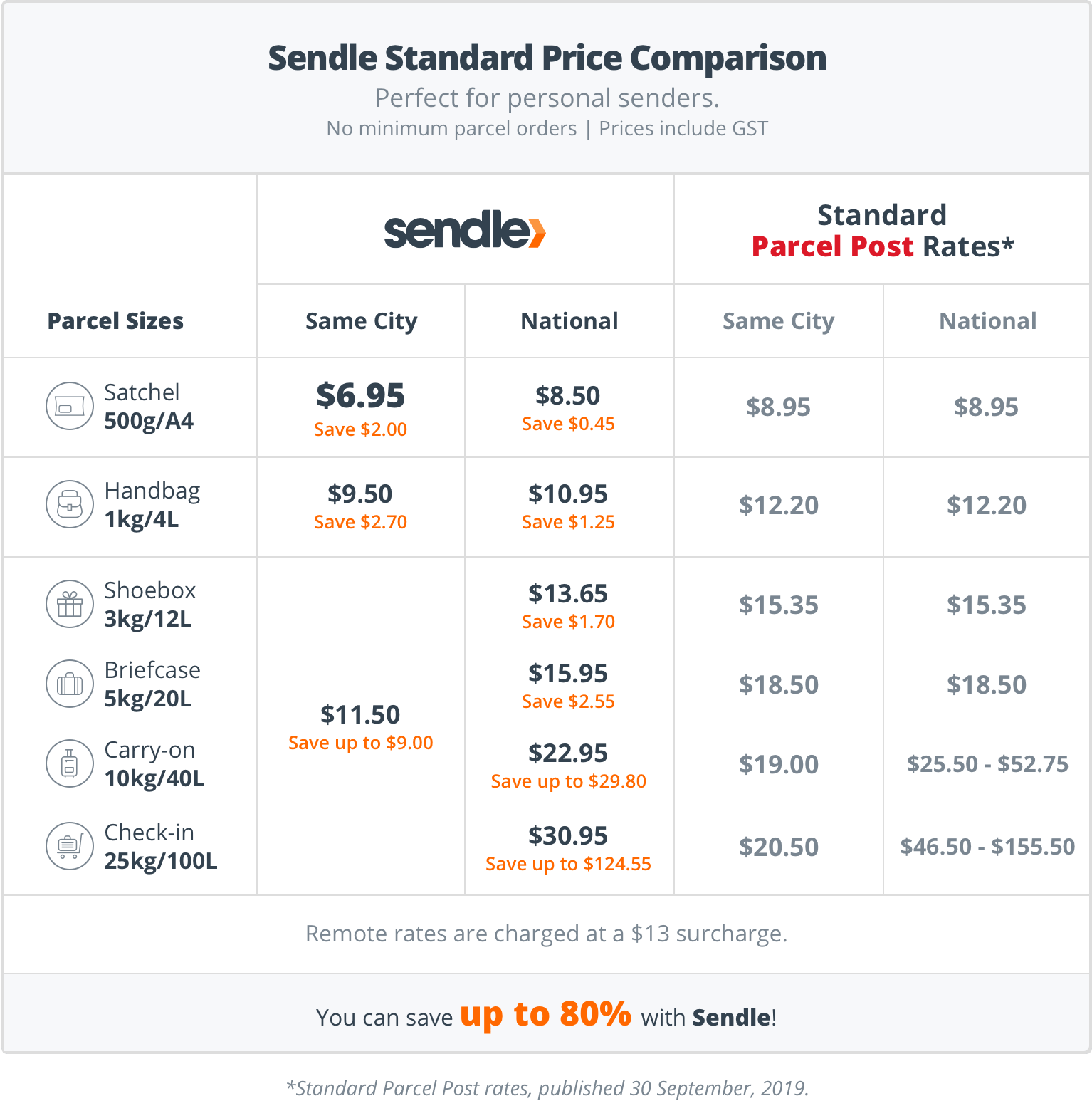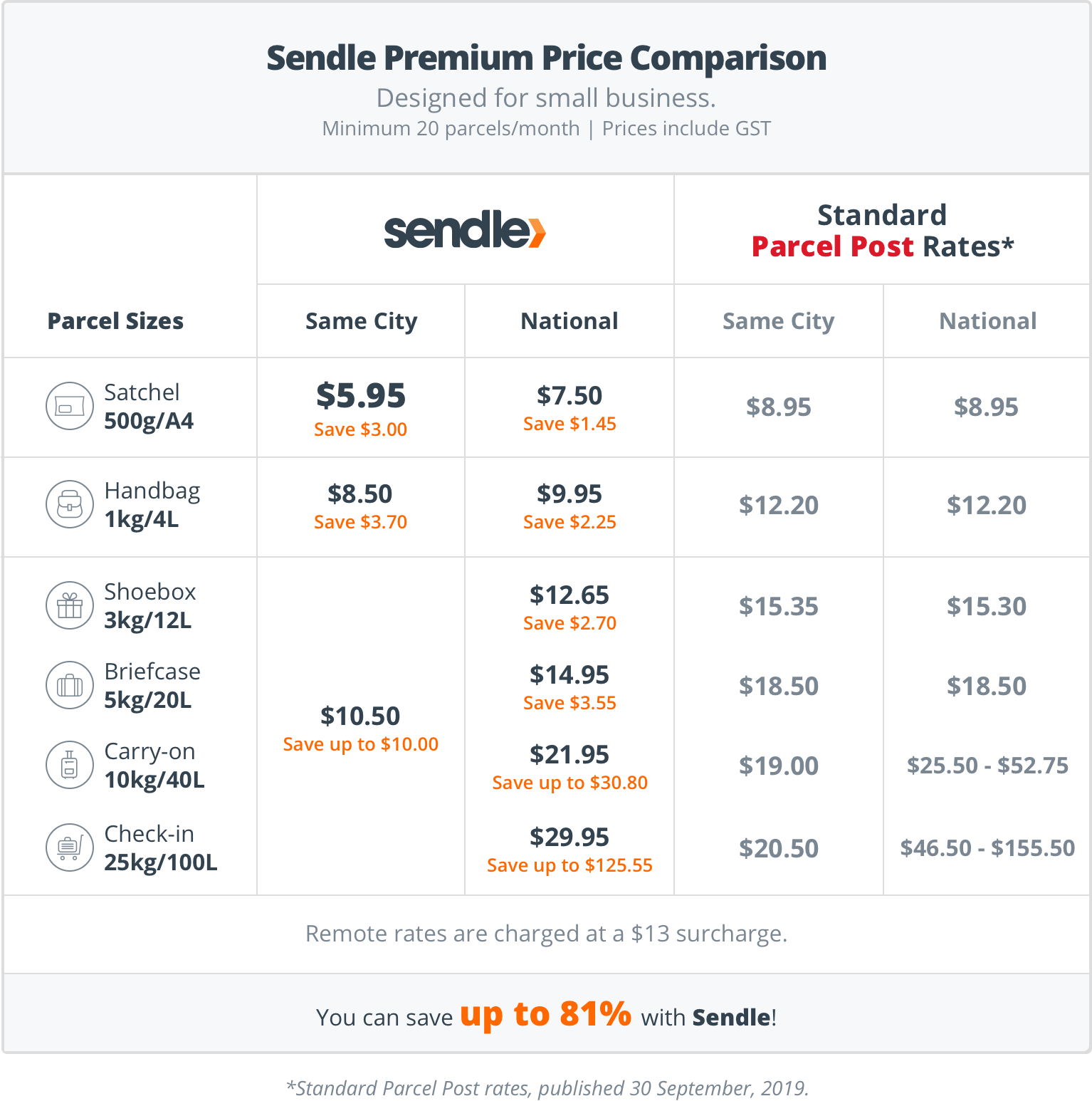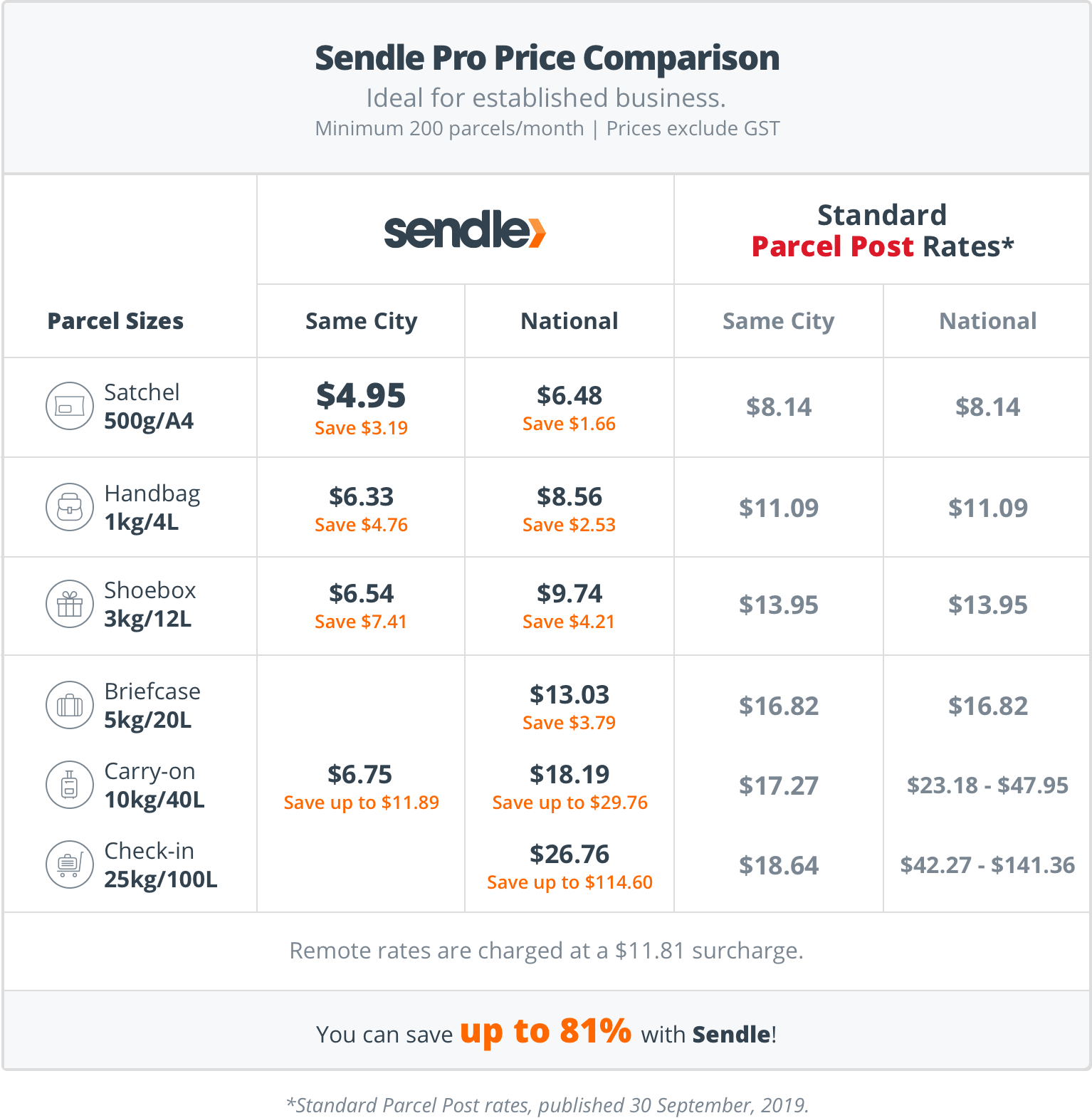 Expanding our Sendle drop-off network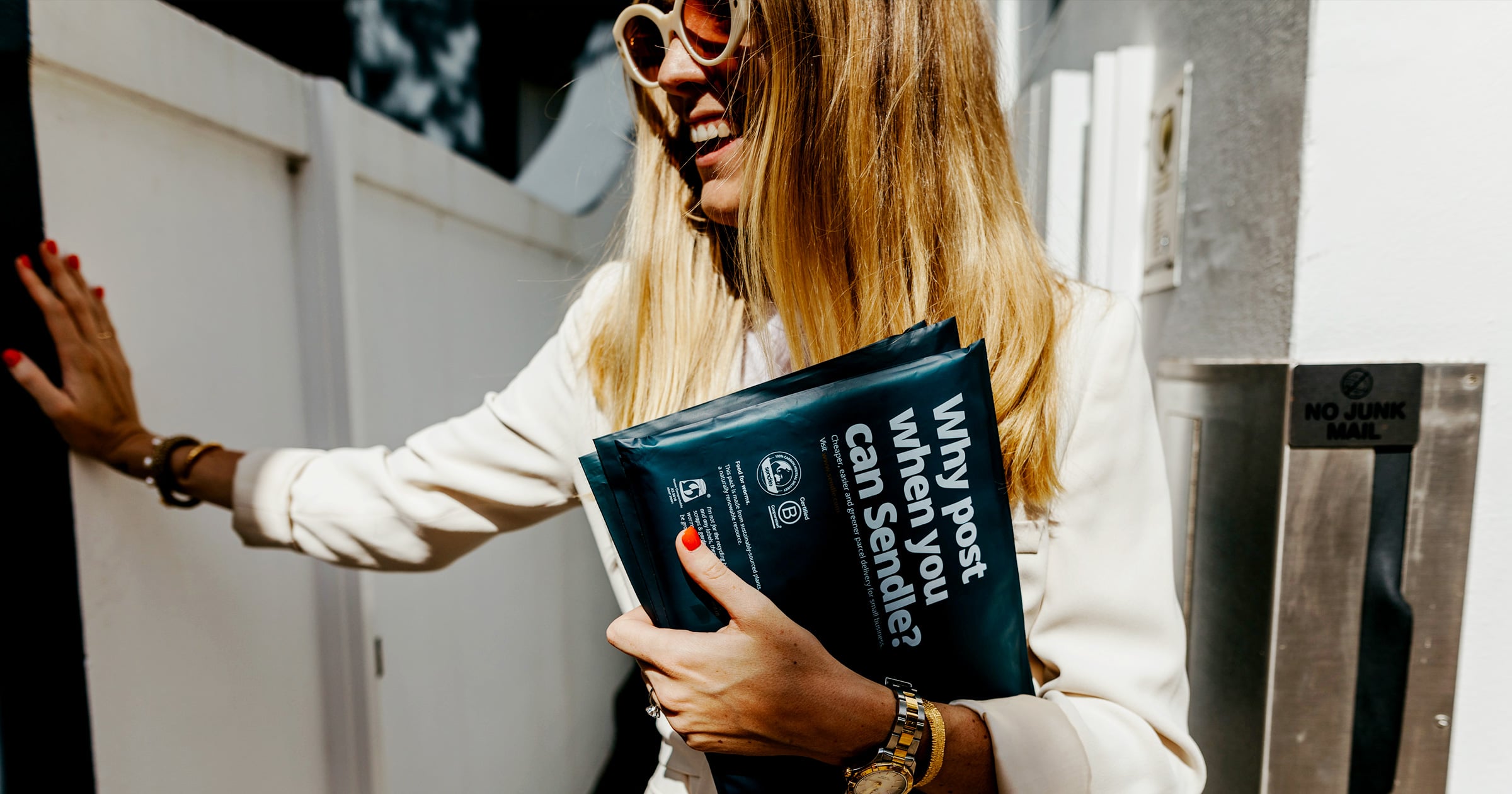 When the COVID eCommerce boom hit we knew we had to expand our network. While life hasn't been the easiest of late, we wanted to do our best to make things flexible and convenient for you.
So, we've added 500 more drop-off locations around the country in anticipation of record parcel volumes this Christmas. Yep, FIVE HUNDRED.
After-hours drop-off points are available at BP stations, convenience stores, newsagents, and pharmacies, with many open 24/7.
Given the particular challenges Victoria customers have faced during the lockdowns, we prioritised expanding our after-hours drop-off network in Victoria. You deserve it.
Fun fact: Our most popular drop-off locations during COVID are the Melbourne CBD, Collingwood, and Burnley.
We've also worked with our partner, Hubbed, to open parcel drop-off points in Tasmania for the first time.
On top of it all, we've hired more customer happiness champions to make sure you get help when you need it.
We're committed to our Aussie Sendlers
Sendle is here to help small businesses thrive, competing on the same field as the big guys with our low-flat rates and price guarantee.